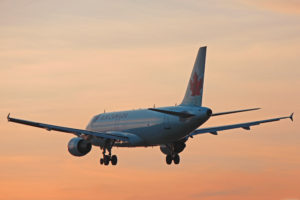 Back at the start of 2016, C-FZQS was involved in a mix-up at Toronto Pearson International Airport (YYZ) that could have resulted in tragedy. The Airbus A320-200 was on final approach when an Air Canada Embraer E190 (C-FNAW) mistakenly entered the runway. More on that below. We photographed C-FZQS performing a much more relaxing landing on December 3, 2017 while plane spotting at YYZ.
For full-size, high resolution versions of any of the photos in the image gallery, simply click on the individual pictures. See below for more detailed information on C-FZQS, the Airbus A320-200 model in general and the airline.
C-FZQS Air Canada Airbus A320-200 Image Gallery
C-FZQS
C-FZQS took its first flight on November 7, 2003 and was delivered to Air Canada on December 11, 2003. The Airbus is configured for a maximum total of 146 passengers with 14 seats in business class, 36 more in premium economy and 96 seats in economy class. This is one of 42 A320 airliners in the Air Canada main fleet.
On January 14, 2013, C-FZQS was flying from Montreal, Quebec to Orlando, Florida. On approach to Orlando, the left side generator failed. The A320 was able to land safely 15 minutes later. The incident resulted in replacement of the #1 integrated drive generator and the #1 bus tie contactor.
On January 30, 2016, C-FZQS was nearly a victim of a major screw-up. The aircraft was flying from Puerto Vallarta, Mexico to Toronto and was on final approach. However, an Air Canada Embraer E190 (C-FNAW) was under the impression they were clear to takeoff from the same runway. The crew of the A320 spotted the E190 in the nick of time and were able to abort the landing.
Airbus A320-200
The Airbus A320 was first introduced with Air France in 1988 and some 4,400 have entered service since. The initial variant of the Airbus A320 Family, it was followed by the stretched A321 and the shrunken A319 and A318. The aircraft is 38 metres or 123 feet in length with a wingspan of 36 metres or 118 feet. At the tail, the airliner stands 12 metres or 39 feet in height. The flight range is 6,100 kilometres.
Air Canada
Air Canada was founded in 1937 as Trans Canada Air Lines with the name change coming in 1965. Headquartered at Montreal Pierre Elliott Trudeau International Airport (YUL), Air Canada is a founding member of the Star Alliance. Including subsidiaries Air Canada Rouge and Air Canada Express, the airline has a fleet of over 400 aircraft flying to 350 destinations worldwide.
Resources
AC1259 January 30, 2016 near serious incident notes
More Like This: