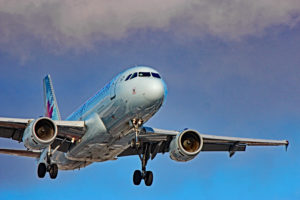 These images of C-FZUL, one of 18 Airbus A319 aircraft belonging to Air Canada, were taken on February 14, 2016. The twenty year old airplane was landing at Toronto Pearson International Airport (YYZ) in Mississauga, Ontario.
For full sized, high definition versions of any of the images in the gallery below, simply click on the individual photos. For more information on this specific airplane, the Airbus A319 model in general and the airline, see below.
C-FZUL Air Canada Airbus A319 Image Gallery
C-FZUL
This Airbus A319-113 made its first flight on September 10, 1997. C-FZUL was delivered to Air Canada on September 19, 1997. As mentioned, this is one of 18 Airbus A319's currently in Air Canada's fleet. The airliner is configured with 14 business class seats and 106 more in economy class.
The airplane has not been involved in any serious mechanical incidents but did have a close call on February 27, 1999. Awaiting takeoff at Calgary International Airport (YYC), this Airbus A319 was given clearance. A Calgary Flight Training Centre Cessna 172 was not cleared for takeoff but did so at the same time as C-FZUL.
After being told to abort the takeoff, the Cessna continued anyway. C-FZUL was at around 120 knots and had to come to a stop with half the runway remaining.

Airbus A319
The Airbus A319 made its first flight on August 25, 1995 and was introduced with Swissair in 1996. The A319 is a shorter version of the A320 and can carry up to 160 passengers. C-FZUL is configured with the more typical two class setup with a maximum of 120 passengers.
As of 2016, the Airbus A319 has a clean safety record with no fatal accidents involving the nearly 1,500 that have been produced.
A crew of two flies this plane and it has a cruise range of 6,950 kilometres. The Airbus A319 is 34 metres or 111 feet in length with a wingspan of 36 metres or 118 feet. At the tail, the airplane stands 12 metres or 39 feet high.

Air Canada
A founding member of the Star Alliance, Air Canada was founded in 1937 as Trans-Canada Air Lines, switching names in 1965. The airline travels to 200 destinations and is headquartered at Montreal Pierre Elliott Trudeau International Airport (YUL) in Dorval, Quebec. Major hubs included Calgary, Montreal, Toronto and Vancouver.
Currently, there are 169 airlines in the Air Canada fleet. The largest in the fleet in the Boeing 777-300ER, of which Air Canada has 19. The most of any single type of aircraft is the Airbus A320-200 with the airline flying 42. As for big planes, AC retired its last Boeing 747 in 2004 and its last Airbus A340 in 2008.
The Star Alliance consists of 27 airlines around the world. Air Canada was a founding member, along with Lufthansa, Scandinavian Airlines, Thai Airways and United Airlines.

Resources
More Like This: