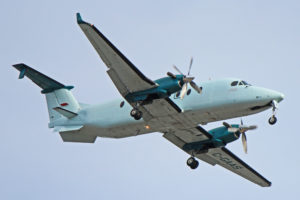 A blank slate. When we photographed C-GAAS while plane spotting at Toronto Pearson International Airport (YYZ) on October 8, 2017, the Beech 1900D was in between liveries. Owned and operated by Air Georgian and flown for Air Canada Express, the regional aircraft looks to be about to take on the new black, red and white Air Canada livery.
For full-size, high resolution versions of any of the photos in the image gallery, simply click on the individual pictures. See below for more detailed information on C-GAAS, the Beech 1900D model in general and the airlines involved.
C-GAAS Air Canada Express Beech 1900D Image Gallery
C-GAAS
C-GAAS took its first flight on April 1, 1996 and was delivered to Air Alliance on June 4, 1996. Since, it has flown for Air Nova, Air Canada Regional, Jazz Air and Air Georgian, all regional carriers for Air Canada. The Beech 1900D was delivered to Air Georgian on January 28, 2003.
This aircraft is configured for 18 passengers in a single class system. This is one of 13 of this model flown by Air Georgian for Air Canada Express.
Beech 1900D
Introduced in 1991, the Beech 1900D is manufactured by the Beech Aircraft Corporation. The manufacturer was founded in 1932 and is headquartered in Wichita, Kansas. Since 2014, the company has been a brand of Textron Aviation, builders of the Textron AirLand Scorpion. The first 1900 variant was introduced in 1984 and the last 1900D was produced in 2002.
The aircraft is 18 metres or 58 feet in length with a nearly identical wingspan. At the tail, the airplane stands five metres or 16 feet in height.
Air Canada Express
Air Canada Express was founded in 2011 as a regional brand for the main airline. A combined fleet of over 170 aircraft fly to around 120 destinations. The airline is headquartered in Montreal, Quebec. Previously named Air Canada Jazz, AC Express is operated by four regional airlines: Air Georgian, Exploits Valley Air Services, Jazz Aviation and Sky Regional Airlines.
Air Georgian
Air Georgian was founded in 1994 and is headquartered at the Shell AeroCentre on the grounds of Toronto Pearson International Airport (YYZ). The privately owned airline flies to 29 destinations for Air Canada Express with a fleet of 30 aircraft. The fleet consists of 13 Beech 1900D and 17 Bombardier CRJ-100 models. Through Air Canada, Air Georgian is a member of the Star Alliance.
Resources
More Like This: