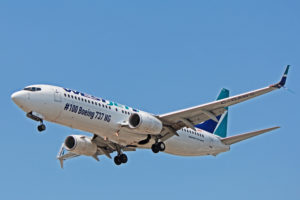 It's a bit confusing but C-GAWS wears a special livery stating it's the '#100 Boeing 737 NG'. Making its first flight in 2012 and with nearly 6,500 737 Next Generation aircraft built to date, this is not Boeing's 100th but WestJet's 100th. We photographed this Boeing 737-800 while plane spotting at Toronto Pearson International Airport (YYZ) on July 21, 2017.
For full-size, high resolution versions of any of the photos in the image gallery, simply click on the individual pictures. See below for more detailed information on C-GAWS, the Boeing 737-800 model in general and the airline.
C-GAWS WestJet Boeing 737-800 Image Gallery
C-GAWS
C-GAWS took its first flight on November 21, 2012 and was delivered to WestJet on December 6, 2012. This is one of 46 Boeing 737-800 aircraft in the WestJet fleet with two more on order. Combined with other NG models (-600 and -700), the airline has 119 next generation 737's currently in service. The airliner is configured for a maximum total of 168 passengers with 12 seats in premium economy and 156 more in economy class.
On November 13, 2014, C-GAWS was flying from Honolulu, Hawaii to Vancouver, British Columbia. About 550 miles into the flight, the crew experienced fumes in the cockpit. Nothing out of the ordinary was detected in the passenger cabin. The Boeing 737-800 was diverted back to Honolulu and landed safely 85 minutes after departing. After days of testing, no cause or further fumes were found and the airplane was returned to service.
Boeing 737-800
The first Boeing 737-800 entered service with Hapaq-Lloyd Flug (now TUIfly) in 1998 and is a stretched version of the 737-700 at 19 feet longer. This type of aircraft is in direct competition with the Airbus A320.
The airplane is 40 metres or 130 feet in length with a wingspan of 36 metres or 118 feet. At the tail, the aircraft stands 13 metres or 41 feet in height. The maximum flight range is 4,300 kilometres.
WestJet
Founded in 1996, WestJet Airlines is headquartered in Calgary, Alberta. The airline currently has a fleet of 119 aircraft that are mostly made up of next generation Boeing 737 models, along with four Boeing 767-300ER. WestJet flies to 92 destinations in Canada, the United States, Europe, Mexico, Central America and the Caribbean. These numbers do not include subsidiary WestJet Encore.
The WestJet fleet will expand significantly in the coming years with 15 Boeing 737 Max 7, 25 Boeing 737 Max 8 and ten Boeing 787-9 Dreamliner aircraft on order. Later in 2017, WestJet will be the first Canadian airline to fly the Max 8.
Resources
More Like This: