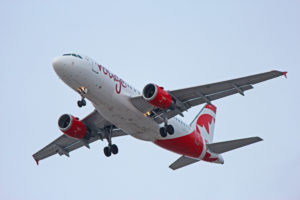 C-GBIJ has been with Air Canada since 1998 and was transferred to their Air Canada Rouge subsidiary in 2014. The Airbus A319-100 is shown in the images below on final approach to Toronto Pearson International Airport (YYZ) back on February 27, 2016.
For full-size, high resolution versions of any of the images in the gallery, simply click on the individual photos. See below for more information on this specific airplane, the Airbus A319 model in general and the airline.
C-GBIJ Air Canada Rouge Airbus A319 Image Gallery
C-GBIJ
C-GBIJ took its first flight on May 5, 1998 and the Airbus A319-114 was delivered to Air Canada on May 25, 1998. The airplane was then transferred to Air Canada Rouge on October 20, 2014. This is one of 20 Airbus A319 aircraft in the Rouge fleet.
The airplane is configured with 12 Premium Rouge seats and eight more in Rouge Plus, along with 116 seats in economy class for a total of 136 potential passengers. This aircraft flies from Canada to the United States, Latin America and the Caribbean for much of the year.
On July 19, 2014, while still in the main Air Canada fleet, C-GBIJ was performing a flight from Vancouver, British Columbia (YVR) to Montreal, Quebec (YUL). While accelerating for takeoff, the takeoff was rejected after an engine stall. The Airbus A319 taxied back to the terminal safely. The right hand engine had suffered an compressor stall and was replaced.

Airbus A319
The shorter version of the Airbus A320, the A319 made its first flight in August, 1995 and was introduced with Swissair in 1996. At maximum configuration, this aircraft can carry up to 160 passengers with a flight range of 6,950 kilometres.
The Airbus A319 is 34 metres or 111 feet in length with a wingspan of 36 metres or 118 feet. At the tail, the airplane stands 12 metres or 39 feet tall. A great safety record, as of 2016, there have no accidents with fatalities involving any of the nearly 1,500 A319 that have been produced.

Air Canada Rouge
Founded in December, 2012, Air Canada Rouge is a wholly owned subsidiary of Air Canada and is fully integrated into AC's systems. Through Air Canada, Rouge is a member of the Star Alliance.
Recent count has the fleet at 47 aircraft. There are 20 Airbus A319, five Airbus A321 and 22 Boeing 767-300ER. The airline flies to nearly 50 destinations.

Resources
Vancouver International Airport
More Like This: