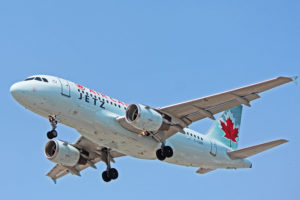 They're old and they don't look spectacular from the outside. However, if you spot an Air Canada Jetz Airbus A319, like C-GBIK, you're most likely seeing a plane full of professional sports stars, star musicians or high priced business executives. We photographed this one while plane spotting at Toronto Pearson International Airport on July 21, 2017. Sorry, I'm not sure who was on board…
For full-size, high resolution versions of any of the photos in the image gallery, simply click on the individual pictures. See below for more detailed information on C-GBIK, the Airbus A319 model in general and the airline.
C-GBIK Air Canada Jetz Airbus A319 Image Gallery
C-GBIK
C-GBIK took its first flight on May 7, 1998 and was delivered to Air Canada on May 29, 1998. Under the Jetz brand, the aircraft is configured with just 58 business class seats, making it quite spacious on an aircraft that can be configured for a maximum of 160 passengers. There are just three Airbus A319 aircraft under the Jetz brand.
Over the years, the aircraft has experience some minor incidents. On September 24, 2011, while flying from Toronto, Ontario to San Francisco, California, the crew received an avionics smoke warning. However, no evidence of smoke was detected. C-GBIK was diverted back to Toronto where no trace of fire, smoke or heat was detected. The result was the replacement of the smoke detector in the avionics compartment.
On February 19, 2014, the Airbus A319 was flying from Vancouver, British Columbia to Toronto. C-GBIK had flown past Calgary, Alberta when there was a failure of the green hydraulic system which could result in the complete lack of nose wheel steering. The flight was diverted to Calgary (YYC) and landed safely. A leak was found and a hydraulic line was replaced.
Airbus A319-100
The Airbus A319 first flew on August 25, 1995 and was introduced with Swissair in 1996. This is the shortened version of the A320 but is still longer than the Airbus A318. A very safe airplane with no fatal accidents involving the roughly 1,500 that have been produced (as of 2016).
The airliner is 34 metres or 111 feet in length with a wingspan of 36 metres or 118 feet. At the tail, the A319 stands 12 metres or 39 feet in height. The flight range is 6,950 kilometres.
Air Canada Jetz
Described as Air Canada's premiere charter aviation service provider, Air Canada Jetz caters to pro sports teams, entertainment groups and corporate clients. The sports teams include all seven Canada based National Hockey League teams (along with some American NHL clubs) and the NBA's Toronto Raptors. The fleet consists of three Airbus A319 aircraft, all configured with 58 business class seats.
Resources
More Like This: