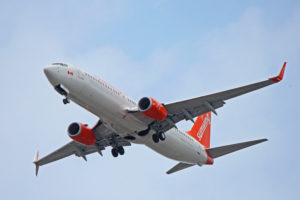 Despite there being several Sunwing flights each day arriving and departing from Toronto Pearson International Airport (YYZ) each day, we rarely have a chance to photograph their airplanes, like C-GBZS. The airline seems relegated to use runway 06/24 when we are often plane spotting at the more popular runway 05/23.
The photos of the Boeing 737-800 in the image gallery were taken while plane spotting at Toronto Pearson on July 20, 2017. For full-size, high resolution versions of any of the photos in the image gallery, simply click on the individual pictures. See below for more detailed information on C-GBZS, the Boeing 737-800 model in general and the airline.
C-GBZS Sunwing Airlines Boeing 737-800 Image Gallery
C-GBZS
C-GBZS took its first flight on February 4, 2016 and was delivered to Sunwing Airlines on February 18, 2016. The Boeing 737-800 is configured for a maximum total of 168 passengers with 12 seats in Plus (premium economy) an 156 more in economy class.
This is one of 18 Boeing 737-800 aircraft in the Sunwing fleet. However, in the summer months, some are leased out to European airlines. For example, at the moment nine are leased out between Thomson Airways, TUIfly Netherlands and Travel Service of the Czech Republic.
Boeing 737-800
The longest of the Boeing 737 Next Generation family of aircraft, the Boeing 737-800 is 19 feet longer than the -700 model. The first entered service with Hapaq-Lloyd Flug (now TUIfly) in 1998. This model is 40 metres or 130 feet in length with a wingspan of 36 metres or 118 feet. At the tail, the aircraft stands 13 metres or 41 feet in height. The maximum flight range for the -800 model is 4,300 kilometres and the airliner is in direct competition with the Airbus A320.
Sunwing Airlines
Sunwing Airlines was founded and commenced operations in 2005. The airline is headquartered in Toronto, Ontario and flies to 73 destinations in Canada, the United States, Mexico, the Caribbean, Central America and South America. As they are relegated to runway 06/24, they are also one of the only charter airlines to be based at Terminal 1 at Toronto Pearson, making it difficult for passengers.
The airline has a fleet of 18 airplanes, all Boeing 737-800 models. Seasonally, a portion of the fleet is leased out to European charter airlines. On order are four Boeing 737 Max 8 aircraft.
Resources
Toronto Pearson International Airport
More Like This: