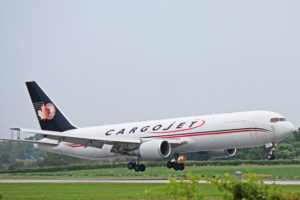 CargoJet Airways, an air freight company in Canada since the early 2000's. C-GCIJ is one of their Boeing 767-300ER aircraft that has been converted to a freighter. The airliner started life with KLM back in 1995 and has had a well-traveled life since. We photographed C-GCIJ while plane spotting at John C. Munro International Airport (YHM) in Hamilton, Ontario on August 17, 2017.
For full-size, high resolution versions of any of the photos in the image gallery, simply click on the individual pictures. See below for more detailed information on C-GCIJ, the Boeing 767-300ER model in general and the airline. The photos are lacking a bit of quality as a it was a rainy day.
C-GCIJ CargoJet Airways Boeing 767-300ERF Image Gallery
C-GCIJ
C-GCIJ took its maiden flight on August 29, 1995 and was first delivered to KLM Royal Dutch Airlines on October 2, 1995 as PH-BZC. The airliner came to Canada on January 19, 2006, delivered to Zoom Airlines on January 19, 2006. Zoom was founded in May, 2002 and ceased operations on August 28, 2008. The airline has a fleet of three Boeing 767-300ER and two Boeing 757-200 aircraft flying to 25 destinations. Zoom was headquartered in Ottawa, Ontario and named all their airplanes after Canadian cities. C-GZNC was named the 'City of Calgary'.
On June 4, 2009, the B763 made its return to Europe, delivered to LOT Polish Airlines as SP-LRG. Over the winter of 2009-10, the aircraft was leased out by LOT to Caribbean Airlines. It was put into storage in April, 2013 before spending time with Kharkiv Airlines as UR-CLT.
On January, 2015, the airliner was again put into storage. It was delivered to CargoJet on January 20, 2016 as C-GCIJ and was converted to a freighter.
Boeing 767-300ER
The first Boeing 767-300ER variant entered service with American Airlines in 1988 with a total of 583 being delivered. The aircraft has a length of 55 metres or 180 feet with a wingspan of 48 metres or 156 feet. At the tail, the airliner stands 16 metres or 52 feet in height. The flight range for this model is 11,070 kilometres.
CargoJet Airways
CargoJet Airways was founded in 2002, formed out of Canada 3000 Cargo. The freight company is headquartered in Mississauga, Ontario and uses John C. Munro International Airport (YHM) in Hamilton, Ontario as its main hub.
The airline currently has a fleet of 21 aircraft flying to a number of destinations in Canada, the United States and Bermuda. The fleet consists of seven classic Boeing 727-200 models, five Boeing 757-200, one Boeing 767-200ER and eight Boeing 767-300ER aircraft.
Resources
John C. Munro International Airport
More Like This: