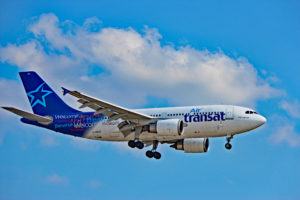 This 27 year old aircraft is still shuttling passengers from Canada to sunshine destinations in the winter months. C-GFAT is an Airbus A310-308 belonging to Air Transat. The airliner started life in the fleet of Emirates Airlines and switched over to Air Transat in 2000.
The images in the gallery below were taken at Toronto Pearson International Airport (YYZ) on September 20, 2014. For large sized, high definition versions of any of the photos, simply click on the individual pictures. For more info on this specific aircraft, Airbus A310's in general and the airline, see below.
C-GFAT Air Transat Airbus A310 Image Gallery
C-GFAT
This Airbus A310-308 took its first flight on July 4, 1990 and was delivered to Emirates Airlines on January 3, 1992 as A6-EKG. On December 21, 2000, the aircraft was delivered to Air Transat and the registration was changed to C-GFAT.
This particular Airbus A310 is configured for a total of 250 passengers, 12 in premium economy and 238 in economy class. This is one of nine A310-300's in Air Transat's fleet. The aircraft has been involved in a few incidents over the years. The most recent came not long ago, in September of 2016.
On September 16, 2016, C-GFAT was flying from Glascow, Scotland to Toronto with 206 passengers. While leaving Glascow, the crew reported a sensor problem. At 110 nautical miles, it was decided to return to Glascow. C-GFAT landed safely before departing again about five hours later. It was announced there was a wing sensor problem.
Back on July 9, 2004, the Airbus A310 suffered a hydraulic failure and had to shut down on the runway. It was found that the number 1 engine was contaminated with hydraulic fuel.
A similar Airbus A310-308 in the Air Transat fleet had a much more serious issue on March 6, 2005. C-GPAT was leaving Veradero, Cuba for Quebec City when the airliner suffered a detached rudder. The airplane returned safely to Veradero with no injuries to the 261 passengers and nine crew on board.

Airbus A310
The first Airbus A310 was introduced with Swissair in 1983. The first A310-300 took its first flight in July, 1985 and entered service with Swissair in 1986. In all, there was a total of 255 Airbus A310's built between 1983 and 1998 with Air Transat remaining one of the primary users. There are just 96 remaining in operation. Of the 255, 12 have been involved in full hull loss accidents resulting in 825 fatalities.
The Airbus A310-300 is 47 metres or 153 feet in length with a wingspan of 44 metres or 144 feet. At the tail, the airliner stands 16 metres or 52 feet in height. Maximum flight range is 8,300 kilometres.

Air Transat
Air Transat commenced operations in 1987. With a fleet of around 30 airplanes, the airline flies to more than 60 destinations in 30 countries. Air Transat is headquartered in Montreal, Quebec and based at Montreal Pierre Elliott Trudeau International Airport (YUL) in Dorval, Quebec and Toronto Pearson International Airport (YYZ) in Mississauga, Ontario.
The airline enjoys a seasonal lease partnership with Transavia France involving Boeing 737-800 airliners. The fleet consists of Airbus A310-300, Airbus A330-200, Airbus A330-300, Boeing 737-700 and Boeing 737-800.

Resources
More Like This: