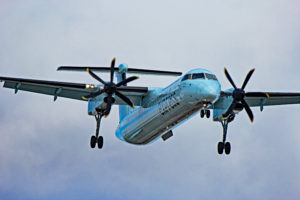 One of the regional workhorses flying under the brand Air Canada Express, C-GGNZ is one of 44 Bombardier Dash 8 Q402 aircraft flown for Air Canada by Jazz Air. This one was seen on March 12, 2017 at Toronto Pearson International Airport (YYZ).
For full-size, high resolution versions of any of the photos in the image gallery, simply click on the individual pictures. See below for more detailed information on this specific aircraft, the Bombardier Dash 8 Q402 model in general and the airline.
C-GGNZ: Air Canada Express Bombardier Dash 8 Q402 Image Gallery
C-GGNZ
C-GGNZ was delivered to Jazz Air on October 14, 2011. This is one of 44 Bombardier DHC-8 402 that Jazz flies for Air Canada under the Air Canada Express brand. This aircraft is configured for 74 passengers in a single class system. Seats are arranged in two rows of two seats with a single aisle down the middle.

Bombardier Dash 8 Q402
Also known as the Bombarder Dash 8 Q402, this was originally introduced as the de Havilland Canada Dash 8. The 400 series was introduced in 1999 and entered service in 2000. The Q402, Q401 and Q400 were all introduced at the same time with the 402 having ten more seats than the 400 and eight more seats than the 401.
The aircraft is 33 metres or 108 feet in length with a wingspan of 28 metres or  Q93 feet. At the tail, the airplane stands eight metres or 28 feet in height. The flight range for the Dash-Q402 is 2,063 kilometres.

Air Canada Express
Air Canada Express was founded in 2011 and is a subsidiary of Air Canada with flights operated by Air Georgian, Exploits Valley Air Services, Jazz Aviation and Sky Regional Airlines. The combined fleet consists of over 170 aircraft which fly to 119 destinations. Like the parent company, Air Canada Express is headquartered in Montreal.

Jazz Air
Jazz Air is wholly owned by Chorus Aviation which primarily contracts to Air Canada. Jazz Air was founded in 2001 and is headquartered at Halifax Stanfield International Airport in Enfield, Nova Scotia. The company's fleet consists of 115 aircraft that fly to 79 destinations.

Resources
Halifax Stanfield International Airport
More Like This: