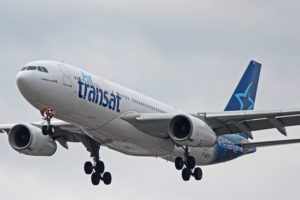 One of 12 Airbus A330-200 currently in the Air Transat fleet, C-GGTS started life with the Canadian charter airline with a few lease visits to France along the way. We photographed C-GGTS on July 20, 2017 while plane spotting at Toronto Pearson International Airport (YYZ).
For full-size, high resolution versions of any of the photos in the image gallery, simply click on the individual pictures. See below for more detailed information on this particular airliner, the Airbus A330-200 model in general and the airline.
C-GGTS Air Transat Airbus A330-200 Image Gallery
C-GGTS
C-GGTS took its first flight on January 13, 1999 and was delivered to Air Transat on February 23, 1999. Twice along the way, the Airbus A330-200 was seasonally leased to XL Airways France. XL Airways commenced operations in 1995 and is headquartered in Tremblay-en-France, France. The French charter airline now has a fleet of four aircraft (3 Airbus A330-200, 1 Airbus A330-300) flying to 21 destinations.
This airliner is configured for a maximum total of 345 passengers with 12 seats in club class and 333 more in economy class. As mentioned, this is one of 12 Airbus A330-200 aircraft in the Air Transat fleet.
Airbus A330-200
A shortened version of the original A330-300 variant, the Airbus A330-200 first entered service in 1998 with Korean Air. The airplane is 59 metres or 193 feet in length, 16 feet shorter than the A333. The A332 has a wingspan of 60 metres or 198 feet, a shared wingspan with the A333.
At the tail, the aircraft stands 17 metres or 57 feet in height, actually taller than it's larger sibling by about two feet. The flight range is a lofty 13,450 kilometres. However, Air Transat has the maximum range listed at just 9,600 kilometres on their official website.
Air Transat
Air Transat commenced operations in 1987 and now flies to more than 60 destinations in 30 countries with a fleet of above or below 30 aircraft, depending on the season. The airline is headquartered in Montreal, Quebec and is based at Toronto Pearson International Airport (YYZ) and Montreal Pierre Elliott Trudeau International Airport (YUL).
The fleet includes Airbus A310-300, Airbus A330-300, Airbus A330-200, Boeing 737-700 and Boeing 737-800 models. The Airbus A310-300 airplanes will be phased out over the next few years, replaced by brand new Airbus A321LR models.
Resources
More Like This: