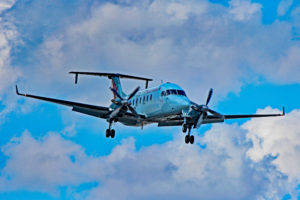 One of 13 Beechcraft 1900D aircraft flown for Air Canada Express by Air Georgian, C-GHGA is about as small as comes under the Air Canada name. The twin propeller airplane was photographed at while plane spotting at Toronto Pearson International Airport (YYZ) on July 2, 2017.
For full-size, high resolution versions of any of the photos in the image gallery, simply click on the individual pictures. See below for more detailed information on C-GHGA, the Beechcraft 1900D model in general and the airline.
C-GHGA Air Georgian Beechcraft 1900D Image Gallery
C-GHGA
C-GHGA made its first flight on November 1, 1997 and was delivered to Air Georgian on December 2, 1997. This is one of 13 Beechcraft 1900D airplanes flown for Air Canada Express by Air Georgian. The aircraft is configured for a maximum total of 18 passengers with two single rows of nine seats.
Beechcraft 1900D
The Beechcraft 1900D was introduced in 1991 and was last produced in 2002. The first 1900 was introduced in 1984. The airplane is 18 metres or 58 feet in length with a wingspan of 18 metres or 58 feet. At the tail, the 1900D is five metres or 16 feet in height. The flight range is 707 kilometres.
Beech Aircraft Corporation was founded in 1932 and is headquartered in Wichita, Kansas. The company has been a brand of Textron Aviation since 2014.
Air Georgian
Air Georgian was founded in 1994 and is regional carrier operating flights for Air Canada Express. The airline has a fleet of 30 airplanes and flies to 29 destinations. The Air Georgian fleet consists of 13 Beechcraft 1900D and 17 Bombardier CRJ-100 aircraft. The privately owned airline is headquartered at the Shell Aerocentre on the grounds of Toronto Pearson International Airport (YYZ). Through AC, they are members of the Star Alliance.
Air Canada Express
Founded in 2011, Air Canada Express is a regional brand of Air Canada. Previously known as Jazz, Express has a fleet of 171 airplanes flying to 119 destinations. Headquartered in Montreal, Quebec, the airline's flights are operated by four regional carriers: Air Georgian, Exploits Valley Air Services, Jazz Aviation and Sky Regional Airlines.
Resources
More Like This: