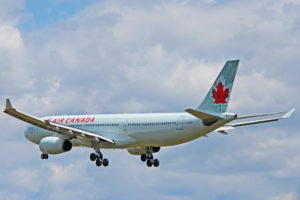 One of just eight Airbus A330-300 models in the Air Canada fleet. A bit elusive, C-GHKW is just the third of those eight we've featured at It's About Airplanes, to date. We captured this particular aircraft while plane spotting at Toronto Pearson International Airport (YYZ) on July 29, 2017.
For full-size, high resolution versions of any of the photos in the image gallery, simply click on the individual pictures. See below for more detailed information on C-GHKW, the Airbus A330-300 model in general and the airline.
C-GHKW Air Canada Airbus A330-300 Image Gallery
C-GHKW
C-GHKW took its first flight on May 28, 2001 and the Airbus A330-343 was delivered to Air Canada on June 19, 2001. As mentioned, this is one of just eight Airbus A333 models in the main fleet. The aircraft is configured for a maximum total of 265 passengers with 37 seats in business class and 228 more in economy class.
Mostly incident free, C-GHKW did have some issues on April 6, 2010. The Airbus A330-300 was flying from Frankfurt, Germany to Montreal, Quebec. On takeoff, the aircraft experienced excessive nosewheel shimmy. The flight continued to Montreal for a safe landing. However, upon landing, it was noticed that the #3 right side main wheel had lost its tread. The flying rubber had caused damage to the main landing gear doors, the wheel well and the flaps. The result was two right side main tires needing replacement. This job had to be done right on the runway, meaning the passengers had to deplane on the runway and the bussed to the terminal.
Airbus A330-300
The initial variant in the Airbus A330 Family, the Airbus A330-300 was first flown in November, 1992 and first entered service with Air Inter in January, 1994. Air Inter was a French airline that began in 1958 and ceased operations in 1997 after it was merged into Air France.
The A333 is 64 metres or 209 feet in length with a wingspan of 60 metres or 198 feet. At the tail, the airliner stands 17 metres or 55 feet in height. The flight range is 11,750 kilometres. This aircraft is in direct competition with the Boeing 777-200 variants.
Air Canada
Air Canada was founded in 1937 as Trans Canada Air Lines, under the ownership of the Canadian National Railway. The name change came on January 1, 1965. Headquartered on the grounds of Montreal Pierre Elliott Trudeau International Airport (YUL) in Dorval, Quebec, Air Canada has a fleet of around 175 aircraft flying to over 200 destinations worldwide. When subsidiaries are factored in, those numbers increase to just under 400 aircraft flying to around 350 destinations.
The airline is a founding member of the Star Alliance, along with Lufthansa, Scandinavian Airlines, Thai Airways and United Airlines. The alliance now has 27 full member airlines around the world.
Resources
Aircraft Profile on Manufacturer's Site
More Like This: