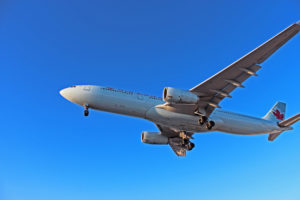 When it comes to its largest aircraft, Air Canada tends to side with Boeing. However, there are a total of eight Airbus A330-300 like C-GHKX in the fleet. This one was spotted on January 1, 2017 at Toronto Pearson International Airport (YYZ).
For full-size, high resolution versions of any of the photos in the image gallery below, simply click on the individual pictures. See below for more detailed information on this specific aircraft, the Airbus A330-300 model in general and the airline.
C-GHKX Air Canada Airbus A330-300 Image Gallery
C-GHKX
C-GHKX made its first flight on June 12, 2001 and was delivered to Air Canada on June 28, 2001. The Airbus A330-343X is configured with 37 business class seats and 228 more in economy class for a maximum total of 265 passengers.
Early in its life, C-GHKX had a potentially dangerous incident. On November 6, 2003, the Airbus A330-300 was flying from Vancouver, British Columbia to Calgary, Alberta. After the crew saw substantial smoke coming from the number 2 engine, they decided to return to Vancouver. After a safe landing, it was determined that fuel was leaking from the engine.
On May 1, 2008, passengers on a flight from London, England to Calgary, Alberta got an unexpected close-up visit to Iqualuit in Nunavut Territory on Baffin Island. The airplane was diverted to Iqualuit due to a medical emergency on board the aircraft.
In what is a much more common problem that you'd think, C-GHKX had an issue on February 13, 2009. Flying from Toronto, Ontario to London, England, one of the inflight entertainment screens began to smoke. Power to the inflight entertainment system was turned off and the smoke stopped. The flight continued to London without further problems.

Airbus A330-300
The initial variant of the Airbus A330, the first flight of an Airbus A330-300 took place in November, 1992. The aircraft was introduced with Air Inter in January, 1994. Air Inter was an airline from France that commenced operations in 1958 and ceased operations in 1997 when it merged with Air France.
The airplane is in direct competition with the Boeing 777-200. The length of the aircraft is 64 metres or 209 feet with a wingspan of 60 metres or 198 feet. At the tail, the Airbus A330-300 is 17 metres or 55 feet in height. The flight range for this aircraft is 11,750 kilometres.

Air Canada
Air Canada was founded in 1937 as Trans-Canada Air Lines and switched to Air Canada in 1965. There are over 170 airplanes in the AC fleet with the largest being the Boeing 777-300ER. Including subsidiaries like Air Canada Express and Air Canada Rouge, the airline flies to 350 destinations worldwide.
Headquartered on the grounds of Montreal Pierre Elliott Trudeau International Airport (YUL), Air Canada is founding member of the Star Alliance, along with Lufthansa, Scandinavian Airlines, Thai Airways and United Airlines.

Resources
More Like This: