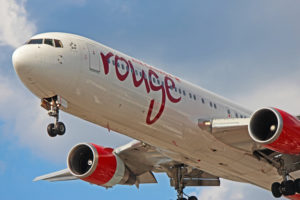 Another Boeing 767-300ER flying for Air Canada Rouge, C-GHLA started life with Air Europe Italy back in 1992. The B763 came across from the main Air Canada fleet in 2016. We photographed C-GHLA on September 14, 2017 while plane spotting at Toronto Pearson International Airport (YYZ). Not long before, the aircraft was involved in an incident on a flight to Orlando, Florida when it got caught in the wake turbulence of a Boeing 747-400. More on that below.
For full-size, high resolution versions of any of the photos in the image gallery, simply click on the individual pictures. See below for more detailed information on C-GHLA, the Boeing 767-300ER model in general and the airline.
C-GHLA Air Canada Rouge Boeing 767-300ER Image Gallery
C-GHLA
C-GHLA took its first flight on July 21, 1992 and was delivered to Air Europe Italy on August 14, 1992 as S7-AAQ / EI-CJA. Air Europe Italy was founded in 1989 and ceased operations in 2008. The airline was under Alitalia ownership and was headquartered in Varese, Italy.
On October 2, 1999, the B763 was delivered to Balair as HB-IHT. That airline was owned by Swissair and was headquartered in Basel, Switzerland. The Boeing 767-300ER then moved to Canadian Airlines on October 1, 2000, taking on the C-GHLA registration number.
With the demise of Canadian Airlines, the airliner was transferred to the Air Canada fleet on March 29, 2001. It was leased out for a short time to Ansett Australia on June 2, 2001 as VH-BZL. Ansett was founded in 1936 and ceased operations in 2001. The airline was a member of the Star Alliance and was headquartered in Melbourne, Australia with a fleet of 138 aircraft flying to 88 destinations.
C-GHLA was returned to Air Canada on November 15, 2001 and was transferred to the Rouge fleet on April 11, 2016. The B763 is configured for a maximum total of 279 passengers with 24 seats in business class, 36 more in premium economy and 219 seats in economy class. This is one of 24 Boeing 767-300ER models in the Air Canada Rouge fleet.
On August 23, 2014, the airliner was flying from Toronto, Ontario to Istanbul, Turkey. Just over London, England, the crew received a low oil indication for the right side engine. They diverted to London Heathrow for a safe landing.
13 months later, on September 23, 2015, C-GHLA was flying from Santiago, Chile to Buenos Aires, Argentina. On descent towards Buenos Aires, turbulence caused injuries to two flight attendants. One was considered a serious injury and both were unable to continue duties.
Recently, on July 31, 2017, the Boeing 767-300ER was flying from Toronto to Orlando, Florida. Just as they started their descent, the aircraft experienced turbulence and an uncommanded roll of 30 degrees to the right. Autopilot was disconnected and the airliner was leveled manually. It was suspected that the turbulence was caused by the wake of a Boeing 747-400 that was flying eight miles ahead. C-GHLA continued on for a safe landing at their destination.
Boeing 767-300ER
The first of the Boeing 767-300ER variant entered service in 1988 with American Airlines and 582 more would follow. The B763 is 55 metres or 180 feet in length with a wingspan of 48 metres or 156 feet. At the tail, the airliner stands 16 metres or 52 feet in height. The flight range is 11,070 kilometres.
Air Canada Rouge
A wholly owned subsidiary of Air Canada, Air Canada Rouge was founded in December, 2012. The airline is a member of the Star Alliance through the parent company. Rouge has a fleet of 49 aircraft, consisting of Airbus A319, Airbus A321 and Boeing 767-300ER models. The airline flies to 49 destinations.
Resources
More Like This: