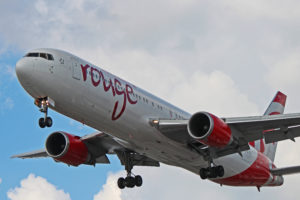 C-GHLK has been around since 1992. For most of its first decade of existence, the Boeing 767-300ER operated for European Airlines. The B763 has been in Canada since 2000 and with Air Canada Rouge since 2016. We photographed C-GHLK while plane spotting at Toronto Pearson International Airport (YYZ) on September 14, 2017.
For full-size, high resolution versions of any of the photos in the image gallery, simply click on the individual pictures. See below for more detailed information on C-GHLK, the Boeing 767-300ER model in general and the airline.
C-GHLK Air Canada Rouge Boeing 767-300ER Image Gallery
C-GHLK
C-GHLK took its maiden flight on September 22, 1992 and was delivered to Air Europe Italy on October 7, 1992 as EI-CJB. Air Europe Italy was founded in 1989 and ceased operations in 2008. The airline was headquartered in Varese, Italy.
On October 28, 1999, the Boeing 767-300ER was delivered to Balair as HB-IHU. Balair was an airline out of Switzerland that was founded in November, 1997 as a subsidiary of Swissair. The airline, headquartered in Basel, Switzerland, ceased operations in October, 2001. This is about the 3rd or 4th reincarnation of an airline named Balair (Belair) in Switzerland.
The aircraft came to Canada in 2000, delivered to Canadian Airlines on November 29 as C-GHLK. Canadian was founded in 1987 and ceased operations in 2001 after being acquired by Air Canada. The airline was headquartered in Calgary, Alberta, the current home of WestJet. The airliner was then transferred to Air Canada's main fleet on March 28, 2001.
Some time in 2001, the Boeing 767-300ER was leased out very short term to Ansett Australia as VH-BZM. This airline was founded in 1936 and ceased operations late in 2001. It had been headquartered in Melbourne, Australia.
The B763 was finally transferred to the Air Canada Rouge fleet on May 31, 2016. The airplane is configured for a maximum total of 280 passengers with 24 seats in business class and 256 more in economy class. This is one of 24 Boeing 767-300ER models in the Rouge fleet.
For a B763, this aircraft is quite incident free. The airplane was involved in a mishap on June 13, 2010 while flying from Toronto, Ontario to London, England for Air Canada. However, it was no fault of the aircraft. 260 miles past St. John's, Newfoundland, over the Atlantic Ocean, a trolley fell against the leg of a flight attendant. A broken bone was suspected and the flight was diverted to St. John's where the flight attendant was taken to hospital. Turbulence was not a factor.
Boeing 767-300ER
The first Boeing 767-300ER entered service in 1988 with American Airlines. In all, 583 of this aircraft were delivered. The airplane is 55 metres or 180 feet in length with a wingspan of 48 metres or 156 feet. At the tail, the airliner stands 16 metres or 52 feet in height. The flight range is 11,070 kilometres.
Air Canada Rouge
Air Canada Rouge was founded in 2012 as a fully owned and fully integrated subsidiary of Air Canada. Through the parent company, Rouge is a member of the Star Alliance of airlines. Rouge flies to 49 destinations with a fleet of 49 aircraft. The fleet consists of Boeing 767-300ER, Airbus A321-200 and Airbus A319-100 models.
Resources
More Like This: