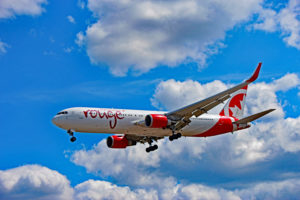 C-GHLQ had an issue with it's flaps in 2016 while flying for Air Canada Rouge that caused the Boeing 767-300ER to return to its departure airport and have passengers continue on in a replacement airplane. Back in 2011, it was pilot error that caused C-GHLQ to go into a temporary nose dive that resulted in seven passengers going to hospital. The half asleep pilot mistook Venus for an oncoming plane and dropped altitude to avoid the oncoming 'aircraft'.
The images in the gallery below were taken on August 17, 2016 at Toronto Pearson International Airport (YYZ) in Mississauga, Ontario, a few months after the incident with the malfunctioning flaps. For full-size, high resolution versions of any of the photos in the image gallery, simply click on the individual pictures. See below for more detailed information on this specific aircraft, the Boeing 767-300ER model in general and the airline.

C-GHLQ Air Canada Rouge Boeing 767-300ER Image Gallery
C-GHLQ
C-GLHQ made its first flight on April 3, 2001 and joined the fleet of Air Canada on June 13, 2001. No, it was not a Friday the 13th, it was a Wednesday. On February 9, 2015, C-GLHQ was transferred to the Air Canada Rouge fleet. This airplane is configured with 18 business class seats, 14 seats in premium economy and 232 in economy class for a total of 264 potential passengers.
On January 14, 2011, this Boeing 767-333ER was performing a flight from Toronto, Canada to Zurich, Switzerland with just 95 passengers on board. At the time, C-GHLQ was with the main Air Canada fleet.
Three hours prior to landing, the airplane reportedly experienced turbulence, injuring 14 passengers and two crew. After a safe landing in Zurich, seven passengers were treated in hospital. After an investigation, it was determined that the so-called turbulence was a result of the pilot putting the aircraft into a dive to avert what he thought was another airplane coming straight at them. It turned out, it was not a plane but a bright star in the sky – Venus.
On March 28, 2016, now flying for Air Canada Rouge, C-GLHQ was performing a flight from Toronto to Cancun, Mexico. The climb out of YYZ was halted at 7,500 feet when the crew got a trailing edge flaps asymmetric indication. The flaps and slats stopped retracting at around four degrees. It was decided that the Boeing 767-300ER would return to Toronto. It landed safely and passengers boarded a replacement aircraft, reaching their destination with a five hour delay.

Boeing 767-300ER
The first Boeing 767-300ER entered service with American Airlines in 1988, seven years after the first 767 of any kind entered service with United Airlines. There are currently 583 of the 300ER model still in service.
The Boeing 767-300ER has a length of 55 metres or 180 feet and a wingspan of 48 metres or 156 feet. At the tail, the aircraft stands 16 metres or 52 feet tall. The ER stands for extended range and the 300ER has a flight range of 11,070 kilometres, considerably more than the 7,200 km the non-ER version is capable of.

Air Canada Rouge
A wholly owned subsidiary of Air Canada, Rouge was founded in December, 2012. The airline has a fleet of 47 aircraft, consisting of Airbus A319, Airbus A321 and Boeing 767-300ER. Rouge travels to 49 destinations. As with the parent company, Air Canada Rouge is a member of the Star Alliance.

Resources
More Like This: