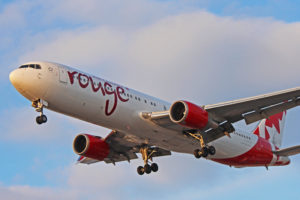 A Boeing 767-300ER with a mostly trouble free record, C-GHLU came over to Air Canada Rouge from the main Air Canada fleet in 2015. We photographed this B763 while plane spotting at Toronto Pearson International Airport (YYZ) on December 3, 2017.
For full-size, high resolution versions of any of the photos in the image gallery, simply click on the individual pictures. See below for more detailed information on C-GHLU, the Boeing 767-300ER model in general and the airline.
C-GHLU Air Canada Rouge Boeing 767-300ER Image Gallery
C-GHLU
C-GHLU took its first flight on April 25, 2001 and was delivered to Air Canada on June 20, 2001. On May 3, 2015, the Boeing 767-333ER was transferred to the Air Canada Rouge fleet. This is one of 24 B763 aircraft currently flying for Rouge. The airliner is configured for a maximum total of 258 passengers with 24 seats in 'Premium Rouge' and 258 more seats in economy class.
On December 21, 2010, C-GHLU was flying from Vancouver, British Columbia to Shanghai, China. At 30,000 feet, still over the province of British Columbia, the captain's Air Data Computer failed. This resulted is a number of error messages and an overspeed warning. The ADC was restored but the aircraft was diverted back to Vancouver as a precaution. The result was the replacement of the left side ADC along with the related circuit breaker and transformer.
Boeing 767-300ER
The first Boeing 767-300ER entered service with American Airlines in 1988, seven years after the initial variant was introduced with United Airlines in 1981. A total of 583 have been delivered. The B763 is 55 metres or 180 feet in length with a wingspan of 48 metres or 156 feet. At the tail, the airliner stands 16 metres or 52 feet in height. The flight range is 11,070 kilometres. The Boeing 767-300ER is a direct competitor of the Airbus A330-200.
Air Canada Rouge
Founded in December, 2012, Air Canada Rouge is a fully owned subsidiary of Air Canada, fully integrated into their networks. Through the main airline, Rouge is a member of the Star Alliance. The airline flies to 49 destinations with 49 aircraft. The fleet consists of 24 Boeing 767-300ER, 20 Airbus A319-100 and five Airbus A321-200 models.
Resources
More Like This: