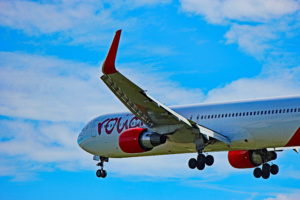 The plane pictured here is now registered C-GHPN and belongs to Air Canada Rouge. However, the Boeing 767-33A(ER) began life in the fleet of Hawaiian Airlines in 2003. The airplane was bought by Air Canada in 2011 and moved to the Rouge division in 2013.
The images in the gallery below were taken at Toronto Pearson International Airport (YYZ) on September 25, 2016. For full sized versions, click on the individual images. See below for more detailed information on this specific airliner, Boeing 767-300's in general and the airline.
C-GHPN Air Canada Rouge Boeing 767 Image Gallery
C-GHPN
This Boeing 767-300 (ER for extended range) took its first flight in February, 2003. In March of the same year, the airplane was delivered to Hawaiian Airlines and registered N593HA. Air Canada took on the airplane in 2011 and added to the Rouge fleet in 2013. This Boeing 767 is currently based at Montreal's Pierre Elliot Trudeau International Airport in Dorval, Quebec (YUL).
While still in the Hawaiian Airlines fleet, the airplane had one slight incident. On June 24, 2010, traveling from Honolulu, Hawaii to Pago Pago in American Samoa, there was a bird strike on one of the engines on approach to Pago Pago. N593HA landed safely and with repairs, was able to return to Honolulu.
Boeing 767-300
The first Boeing 767 was introduced in 1981, flying with United Airlines. The first 767-300 was introduced in 1988 with American Airlines. There are 583 Boeing 767-300ER's in service worldwide.
The airplane is 55 metres or 180 feet in length with a wingspan of 48 metres or 156 feet. At the tail, the height is 16 metres or 52 feet. The flight range is 10,549 kilometres.
Air Canada Rouge
Air Canada Rouge was founded in December, 2012 as a fully owned subsidiary that is fully integrated into Air Canada's networks. Rouge has a fleet of 44 airliners, made up of Airbus A319-100, Airbus a321-200 and Boeing 767-300ER's.
Rouge flies to 49 destinations worldwide. Through the parent company, Air Canada, Rouge is a member of the Star Alliance.
Resources
Pierre Elliot Trudeau International Airport
More Like This: