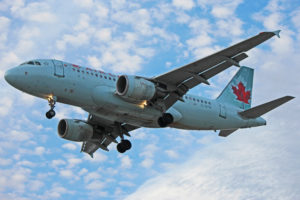 With Air Canada moving towards a fleet greater in Boeing 737 Max 9 and Bombardier CS300 aircraft in the next few years, the airline is slated to phase out eight of the 18 Airbus A319-100 aircraft by the end of 2018. Will C-GITR be one of them? We photographed this airliner while plane spotting at Toronto Pearson International Airport (YYZ) on October 22, 2017.
For full-size, high resolution versions of any of the photos in the image gallery, simply click on the individual pictures. See below for more detailed information on C-GITR, the Airbus A319-100 model in general and the airline.
C-GITR Air Canada Airbus A319-100 Image Gallery
C-GITR
C-GITR took its first flight on August 31, 2001 and was delivered to Air Canada on September 14, 2001. This is one of 18 Airbus A319-100 currently in the airline's main fleet with three branded Air Canada Jetz. There are an additional 20 more in the Air Canada Rouge fleet. Word is, eight will be phased out by the end of 2018, making room for the incoming Boeing 737 Max 9 and Bombardier CS300 models. this aircraft is configured for a maximum total of 120 passengers with 14 seats in business class and 106 more in economy class.
On February 20, 2014, the A319 had an interesting problem on a flight from Bridgetown, Barbados to Toronto, Ontario. While taxiing to the runway, both nose gear tires deflated, leaving the aircraft crippled on the runway. This caused the airport to close for two hours with the tires replaced right where the airplane sat. After a four and half hour delay, C-GITR was able to continue on to Toronto.
Ealier this year, on January 7, 2017, the airliner was flying from Fort McMurray, Alberta to Toronto, Ontario. Just northwest of Winnipeg, Manitoba, the crew received a "ENG 2 THRUST LEVEL DISAGREE" message. The right hand engine's thrust lever was reduced to idle and remained as such until after landing. C-GITR was diverted to Winnipeg (YWG) for a safe landing. As a result, the #2 Engine Electronic Control Unit was replaced.
Airbus A319-100
A shortened version of the Airbus A320 but still longer than the A318, the Airbus A319-100 took its maiden flight on August 25, 1995 and was introduced with Swissair in 1996. The aircraft is 34 metres or 111 feet in length with a wingspan of 36 metres or 118 feet. At the tail, the airliner stands 12 metres or 39 feet in height. The flight range for the Airbus A319-100 is 6,950 kilometres.
Air Canada
Founded in 1937 as Trans Canada Air Lines, the airline commenced operations as Air Canada on January 1, 1965. They have a fleet of 174 airplanes (387 with subsidiaries included) that fly to over 200 destinations (350 with subsidiaries included) around the world.
Air Canada is headquartered at the Air Canada Centre on the grounds of Montreal Pierre Elliott Trudeau International Airport (YUL) in Dorval, Quebec. They are a founding member of the Star Alliance, along with Lufthansa, Scandinavian Airlines, Thai Airways and United Airlines.
Resources
More Like This: