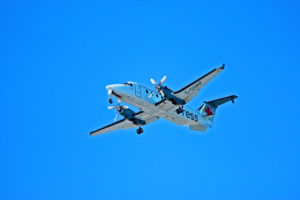 C-GORF, a Beechcraft 1900D belonging to and flown by Air Georgian for Air Canada Express. The Beechcraft 1900D had some hard times, less than a year ago. While landing at Calgary International Airport (YYC), the nose landing gear failed to fully drop and lock. The gear collapsed on landing, however, the aircraft sustained little enough damage that it is in service today.
The images in the gallery below of C-GORF were taken on March 9, 2015 while landing at Toronto Pearson International Airport. The landing gear that would fail over a year later was still functioning properly at the time.
For full-size, high resolution versions of the images in the gallery, simply click on the individual pictures. See below for more detailed information on this specific aircraft, the Beechcraft 1900D model in general and the airline.
C-GORF Air Georgian Beechcraft 1900D Image Gallery
C-GORF
C-GORF was delivered to Air Georgian on October 30, 1998 and has remained in their fleet since. The Beechcraft 1900D propeller plane has seating for 18 passengers in two single rows of nine. The aircraft is flown by a single pilot. On board, there is no additional cabin crew and no inflight services or amenities.
On July 12, 2016, C-GORF was performing a short flight from Lethbridge, Alberta to Calgary (YYC). Upon approach to Calgary, the nose landing gear failed to fully lock down. The crew were unable to get the gear to fully come down and lock. A fly-by of the tower showed that the nose gear was indeed not full extended. Upon landing, the gear collapsed but the airplane landed safely.
On June 28, 2015, this particular aircraft was involved in another incident that could have proved catastrophic. Taxiing to the runway for takeoff at Toronto Pearson International Airport, the Beechcraft 1900D nearly collided with a landing Westjet Boeing 737-800 incoming from Winnipeg, Manitoba.

Beechcraft 1900D
The 1900D version of the Beechcraft 1900 family was introduced in 1991. The airplane is configured for 18 passengers and one pilot with not additional flight crew on board. The aircraft is built for short haul flights with a maximum range of 707 kilometres when fully loaded with 18 passengers. The 1900D was last produced in 2002.
The Beechcraft 1900D is 18 metres or 58 feet in length with a wingspan that is also 18 metres or 58 feet. At the tail, the airplane stands five metres or 16 feet in height.

Air Georgian
Air Georgian was founded in 1994 and was previously partnered with Canadian Airlines from 1997 to 2000. Since 2000, Air Georgian has flown for Air Canada under the Air Canada Express name. Consequently, the airline is a member of the Star Alliance through affiliation. Air Georgian is headquartered at the Shell Aerocentre on the grounds of Toronto Pearson International Airport (YYZ).
The airline's fleet consists of 14 Beechcraft 1900D, 18 Bombardier CRJ-100/200 and one Cessna Citation Sovereign. Air Georgian travels to 29 destinations in Canada and the United States.

Air Canada Express
Founded in 2011, replacing the wholly owned Air Canada Jazz, Air Canada Express is made up of four different regional airlines that operate flights for Air Canada. Besides Air Georgian, there is also Exploits Valley Air Services, Jazz Aviation LP (Chorus Aviation) and Sky Regional Airlines. Jazz is the largest with 115 aircraft.
In all, the four airlines provide 166 aircraft to Air Canada Express and travel to 119 destinations. All are members of the Star Alliance through affiliation with Air Canada.

Resources
More Like This: