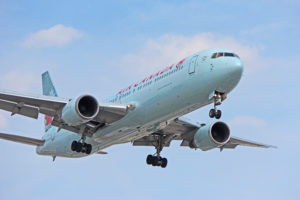 It's funny to see a Boeing 767-300ER without winglets, now. They are such a defining and identifying feature of this aircraft, with their size. C-GSCA was seen in April, 2016 without the winglets and still in the main Air Canada fleet. Just recently, in May, 2017, the Boeing 767 has been transferred to Air Canada Rouge.
For full-size, high resolution versions of any of the photos of C-GSCA in the image of gallery, simply click on the individual pictures. See below for more detailed information on this specific airplane (it was a bit of a journey to get where it is now), the Boeing 767-300ER model in general and the airline.
C-GSCA Air Canada Boeing 767-300ER Image Gallery
C-GSCA
C-GSCA made its first flight on May 17, 1991 and was delivered to Canadian Airlines on June 4, 1991. From October 16, 1993 until being returned to Canadian on May 1, 1998, the Boeing 767-375ER flew for China Southern Airlines as B-2564.
The aircraft switched over to Air Canada on March 29, 2001 after Canadian Airlines was acquired by Air Canada. On May 9, 2017, the airplane was transferred to the Air Canada Rouge subsidiary. This Boeing 767 is configured for a total maximum of 280 passengers with 24 seats in business class and 256 more in economy class.
On July 27, 2012, C-GSCA was flying from Beijing, China to Vancouver, British Columbia. At 33,000 feet, over Khabarovsk, Russia, the crew reported a generator failure and diverted to Sapporo, Japan. After 18 hours on the ground at Sapporo, the Boeing 767-300ER was able to continue on to Vancouver.

Boeing 767-300ER
The first Boeing 767 of any kind entered service with United Airlines in 1981. The first Boeing 767-300ER was introduced with American Airlines in 1988. The ER stands for extended range and this aircraft has a flight range of 11,070 kilometres, nearly 4,000 KM more than the -300 version.
The Boeing 767-300ER is 55 metres or 180 feet in length with a wingspan of 156 feet or 48 metres. At the tail, the airplane stands 16 metres or 52 feet in height. In all, 583 of this model aircraft were manufactured.

Air Canada
Air Canada is a founding member of the Star Alliance, along with Lufthansa, Scandinavian Airlines, Thai Airways and United Airlines. The airline dates back to 1937 when it was founded as Trans-Canada Air Lines. The name change came in 1965.
There are nearly 168 aircraft in the main fleet with the Boeing 777-300ER being the largest. Air Canada flies to 200 destinations worldwide (that number increases to 350 when including Air Canada Express and Air Canada Rouge).
Air Canada is headquartered at the Air Canada Centre on the grounds of Montreal's Pierre Elliott Trudeau International Airport (YUL) in Dorval, Quebec.

Resources
More Like This: