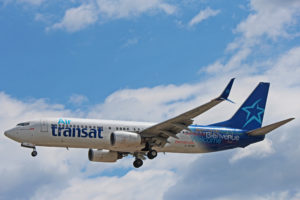 One of eight Boeing 737-800 aircraft in the Air Transat fleet, we photographed C-GTQF while plane spotting at Toronto Pearson International Airport (YYZ) on July 29, 2017. The B738 started life on the other side of the world, with Air India Express, before coming to Canada in 2014.
For full-size, high resolution versions of any of the photos in the image gallery, simply click on the individual pictures. See below for more detailed information on C-GTQF, the Boeing 737-800 model in general and the airline.
C-GTQF Air Transat Boeing 737-800 Image Gallery
C-GTQF
C-GTQF took its first flight on April 26, 2006 and was delivered to Air India Express on May 10, 2006 as VT-AXF. Air India Express commenced operations on April 29, 2005 as a wholly owned subsidiary of Air India. Headquartered in Kochi, India, the airline has a fleet of 23 aircraft, all Boeing 737-800 models, flying to 30 destinations.
After being put into storage on March, 2014, the Boeing 737-8Q8 was delivered to Air Transat on June 29, 2014. This is one of eight B738 aircraft in the AT fleet and is configured for a maximum total of 189 passengers, all in economy class.
Boeing 737-800
The most popular variant of the Boeing 737 Next Generation Family, there have been over 4,500 Boeing 737-800 airliners delivered, to date. First launched with Hapaq-Lloyd Flug (now TUIfly) in 1998, the aircraft is in direct competition with the Airbus A320. Both have moved forward with the Boeing 737 Max 8 and the Airbus A320neo.
The airplane is 40 metres or 130 feet in length with a wingspan of 36 metres or 118 feet. At the tail, the B738 stands 13 metres or 41 feet in height. The flight range is 4,300 kilometres.
Air Transat
Air Transat commenced operations in 1987 and headquartered in Montreal, Quebec, Canada. The Canadian charter airline has a fleet of 35 aircraft that travel to more than 60 destinations in 30 countries. They are based at Montreal Pierre Elliott Trudeau International Airport (YUL) and Toronto Pearson International Airport (YYZ).
The Air Transat fleet consists of Airbus A330-300, Airbus A330-200, Airbus A310-300, Boeing 737-800 and Boeing 737-700 aircraft. They have just one leased Boeing 737-700 and are one of the world's biggest operators of the aging but reliable Airbus A310-300.
Resources
More Like This: