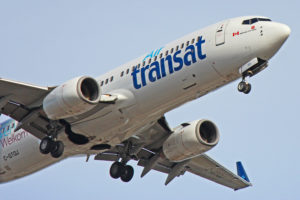 This Boeing 737-800 spent much of its life with Shanghai Airlines. C-GTQJ joined the Air Transat fleet in April, 2016 after 14 years with the subsidiary of China Eastern Airlines. We photographed the airliner while plane spotting at Toronto Pearson International Airport (YYZ) on October 8, 2017.
For full-size, high resolution versions of any of the photos in the image gallery, simply click on the individual pictures. See below for more detailed information on C-GTQJ, the Boeing 737-800 model in general and the airline.
C-GTQJ Air Transat Boeing 737-800 Image Gallery
C-GTQJ
C-GTQJ took its maiden flight on December 20, 2001 and was delivered to Shanghai Airlines on January 18, 2002 as B-2167. Shanghai Airlines was founded in 1985 as a wholly owned subsidiary of China Eastern Airlines. Headquartered in Shanghai, China, the airline now has a fleet of 91 aircraft flying to 140 destinations. They had been a member of the Star Alliance until their February, 2010 merger with CE.
After being stored in January, 2016, C-GTQJ was delivered to Air Transat on April 2, 2016. One of seven Boeing 737-800 aircraft in the fleet, this B738 is configured for a maximum total of 189 passengers, all in economy class.
Boeing 737-800
By far the most popular variant of Boeing's 737 Next Generation Family, over 4,500 of this model have put into service. The Boeing 737-800 is a stretched version of the 737-700 at 19 feet longer. The first entered service in 1998 with Hapaq-Lloyd Flug (TUIfly).
The B738 is 40 metres or 130 feet in length with a wingspan of 36 metres or 118 feet. At the tail, the aircraft stands 13 metres or 41 feet in height. The maximum flight range for this airliner is 4,300 kilometres. The airplane is in direct competition with the Airbus A320.
Air Transat
Air Transat started flying in 1987 and is headquartered in Montreal, Quebec, Canada. Their fleet fluctuates seasonally, north and south of 30 aircraft. The fleet consists of Airbus A310-300, Airbus A330-200, Airbus A330-300, Boeing 737-700 and Boeing 737-800 models. Air Transat flies to more than 60 destinations in 30 countries.
Resources
More Like This: