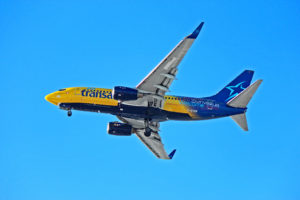 Since it took its first flight in February, 1999, this Boeing 737-700 has been bounced around, flying for ten different airlines. Since November, 2014, C-GTQP has wintered with Air Transat, shuttling Canadian passenger to sunshine destinations. The airplane is currently leased from ASL Airlines France.
The images in the gallery were taken on March 9, 2015 at Toronto Pearson International Airport (YYZ). For full size, high definition versions of any of the photos, simply click on the individual pictures. See below for more information on this specific aircraft, the airplane model in general and the airline.
C-GTQP Air Transat Boeing 737-700 Image Gallery
C-GTQP
This Boeing 737-73S made its first flight on February 15, 1999. On April 29, 1999, the aircraft was delivered to Israir, registered 4X-ABR. Since, it has flown for Israir, PeG, Sun Express, Hamburg International, Sterling Airlines, AIRES Colombia, LAN Colombia, Europe Airpost, ASL Airlines France and, of course, Air Transat.
Air Transat has leased C-GTQP since November 25, 2014, first from Europe Airpost and since November 26, 2016 from ASL Airlines France. This is one of three Boeing 737-700 that Transat leases from ASL.
The airplane is configured in a single class set-up with 148 economy class seats.

Boeing 737-700
The original Boeing 737 was introduced in 1968. The 737-700 version was launched with Southwest Airlines in 1998. This aircraft is a direct competitor with the Airbus A319, the shrunken version of the A320. Typically, the 737-700 carries 137 passengers in a two class configuration or 149 in a single class, all economy set-up.
The aircraft is 34 metres or 110 feet in length with a wingspan of 36 metres or 118 feet. At the tail, the Boeing 737-700 stands 13 metres or 41 feet tall. The cruise range is 5,570 kilometres.

Air Transat
Air Transat commenced operations in 1987 and specializes in charter flights from Canada to sunshine destinations in the Caribbean and Mexico during the winter months. Transat also has flights and package deals to destinations in Europe. In all, the airline travels to more than 60 destinations in 30 countries.
The fleet fluctuates seasonally but is around 43 aircraft. These consist of Airbus A310-300, Airbus A330-300, Boeing 737-700 and Boeing 737-800. The Boeing 737-800 are leased seasonally from Transavia France.
The airline is headquartered in Montreal, Quebec and based at Montreal's Pierre Elliott Trudeau International Airport (YUL) and Toronto's Pearson International Airport (YYZ).

Resources
More Like This: