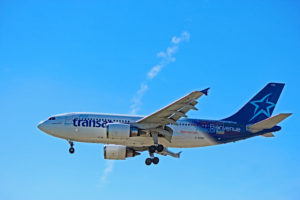 C-GTSF is an Airbus A310-300 that has a well traveled history. The aircraft started life with Wardair in 1988. That airline soon after was acquired by Canadian Airlines (an airline that was eventually acquired by Air Canada). Along the way, C-GTSF flew for airlines like Kuwait Airlines, Royal Nepal Airlines, Aeroflot and TAP Air Portugal.
The images in the gallery below were taken at Toronto Pearson International Airport (YYZ) in Mississauga, Ontario on May 20, 2017. For full-size, high resolution versions of any of the photos in the gallery, simply click on the individual pictures. See below for more detailed information on C-GTSF and its history, the Airbus A310-300 model in general and Air Transat.
C-GTSF Air Transat Airbus A310-300 Image Gallery
C-GTSF
C-GTSF made its first flight on March 7, 1988 and was delivered to Wardair on May 19, 1988 as C-GIWD. Wardair was a Canadian airline that was founded in 1952 and ceased operations in 1989 when it was acquired by Canadian Airlines. Wardair was headquartered in Edmonton, Alberta and had a fleet of more than 30 aircraft, traveling to 26 destinations.
The Airbus A310-304 was transferred to the Canadian Airlines fleet on January 15, 1990. Canadian was founded in 1987 and ceased operations in 2001 when it was acquired by Air Canada. This aircraft did not stay with the airline long.
On August 30, 1991, the Airbus A310 was delivered to Kuwait Airways as A6-KUC. This was after the Gulf War that lasted from August, 1990 to February, 1991. Kuwait Airways commenced operations in 1954 and is headquartered in Al Faywaniyah Governorate, Kuwait. At the moment, the fleet consists of 35 airplanes flying to 34 destinations.
From October 11, 1993 to July 29, 1996, the aircraft flew for Royal Nepal Airlines as D-APON. It was then delivered to Oasis International Airlines as EC-396. It was then moved to Polaris (military) on December 13, 1997 as N472GE.
The move to Russia came in March, 1998 when the Airbus A310 joined the Aeroflot fleet as VP-BAF. Five years later, in September, 2003, the airplanes was moved to TAP Air Portugal as CS-TEZ. C-GTSF came to be with Air Transat on April 17, 2006.
C-GTSF is configured for a maximum total of 250 passengers. There are 12 seats in premium economy with 238 more in economy class. This is one of nine Airbus A310-300 aircraft in the Air Transat fleet.
On December 13, 2009, the aircraft was undergoing maintenance in Rio de Janeiro, Brazil when the airplane jumped the chocks with the engines running. C-GTSF traveled across the tarmac and across a road. Both wings hit light standards and both engines hit trees before coming to a stop on soft, forested ground. There were no injuries but the aircraft received damage to the engine nose cowls, main landing gear bodies and the nose gear.

Airbus A310-300
The first Airbus A310 was introduced in 1983 with Swissair and the first A310-300 entered service in 1986, also with Swissair. Between 1983 and 1998, 255 Airbus A310 aircraft were produced. 12 since have had hull loss accidents with 825 fatalities. Air Transat remains one of the primary users of the Airbus A310-300.
The airplane is 47 metres or 153 feet in length with a wingspan of 44 metres or 144 feet. At the tail, the aircraft stands 16 metres or 52 feet in height. The flight range is 8,300 kilometres.

Air Transat
Air Transat commenced operations in 1987 and is headquartered in Montreal, Quebec. The airline's fleet fluctuates above and below 30 aircraft, depending on the season. AT flies to more than 60 destinations in 30 different countries.
The fleet consists of three different kinds of Airbus models: Airbus A310-300, Airbus A330-200 and Airbus A330-300. Air Transat also flies Boeing 737-700 and Boeing 737-800 models.

Resources
More Like This: