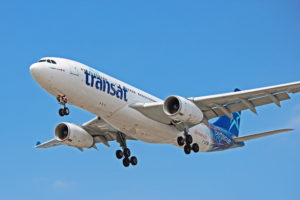 We photographed C-GTSI while plane spotting at Toronto Pearson International Airport (YYZ) on July 20, 2017. The Airbus A330-200 has lived a seasonally adjusted existence since entering service in 2001. As of November 1, 2017, the A332 has been leased to Travel Service Poland for the winter of 2017-18. More on it's traveled past below.
For full-size, high resolution versions of any of the photos in the image gallery, simply click on the individual pictures. See below for more detailed information on C-GTSI, the Airbus A330-200 model in general and the airline.
C-GTSI Air Transat Airbus A330-200 Image Gallery
C-GTSI
C-GTSI took its first flight on October 9, 2001 and was delivered to JMC Airlines on September 9, 2001 as G-OJMB. JMC Airlines was formed in March, 2000 with the merger of Caledonian Airways and Flying Colours Airlines. The airline was then rebranded as Thomas Cook Airlines on March 31, 2003. Thomas Cook currently has a fleet of 34 aircraft flying to 72 destinations worldwide. On occasion, G-OJMB was leased out to Garuda Indonesia.
In November, 2011, the Airbus A330-200 was put into storage and was then delivered to Air Transat on December 21, 2011 as C-GTSI. On November 1, 2017, the A332 was leased to Travel Service Poland, retaining the Canadian registration. The sister airline of Travel Service Czech Republic, the Polish version was founded in May, 2012 and currently has just C-GTSI in the fleet. They operate charter flights to leisure destinations with Warsaw, Poland as a base.
The main Travel Service airline is headquartered in Prague, Czech Republic and was founded in 1998. The airline has a fleet of 36 aircraft flying to 92 destinations.
C-GTSI is configured for a maximum total of 345 passengers. There are 12 seats in business class with 333 more in economy class.
As G-OJMB, the Airbus A330-200 had a non-mechanical incident on June 26, 2010. On a flight from Manchester, England to Vancouver, British Columbia, a passenger suffered a stroke while the aircraft was on final approach to Vancouver (YVR). After a safe landing, the ill passenger was taken to a local hospital.
On September 4, 2014, the A332 had to reject a takeoff on a flight that should have taken them from Montreal, Quebec to Rome, Italy. On acceleration, the crew received a 'Stall Eng 2' indication. Oil was found to be leaking from the right side engine and was replaced.
More recently, on September 11, 2017, C-GTSI was to fly from Porto, Portugal to Toronto, Ontario. On the initial climb, a 'HYD G SYS LEAK' indication was received. After stopping the climb, the aircraft returned to Porto for a safe landing. The right side main landing gear door bypass valve was replaced and the airliner was able to continue to its destination the following day.
Airbus A330-200
The shortened version of an Airbus A330-300, the Airbus A330-200 first entered service with Korean Air in 1998. The aircraft is 59 metres or 193 feet in length, 16 feet shorter than the A333. The wingspan is 60 metres or 198 feet, a measurement shared with the initial variant. At the tail, the A332 stands 17 metres or 57 feet in height. The flight range is 13,450 kilometres, around 1,700 KM further than the larger variant.
Air Transat
Air Transat opened for business in 1987 and is now headquartered in Montreal, Quebec, Canada. The airline has a fleet that fluctuates around 30 aircraft. They fly to six destinations in 30 different countries. Currently, the Air Transat fleet consists of Airbus A330-300, Airbus A330-200, Airbus A310-300, Boeing 737-800 and Boeing 737-700 aircraft. They are one of the world's largest operators of the classic Airbus A310-300 but will be phasing these out in the coming years.
Resources
More Like This: