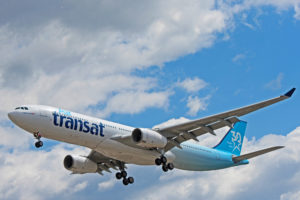 There are three Airbus A330-300 aircraft decorated by Air Transat for the rest of 2017 with a special livery celebrating the airline's 30th anniversary. We captured C-GKTS last week and this week, while plane spotting at Toronto Pearson International Airport (YYZ) on July 29, 2017, we photographed C-GTSO. This just leaves one left in the collection.
For full-size, high resolution versions of any of the photos in the image gallery, simply click on the individual pictures. See below for more detailed information on C-GTSO, the Airbus A330-300 model in general and the airline.
C-GTSO Air Transat Airbus A330-300 Image Gallery
C-GTSO
C-GTSO took its first flight on March 15, 1996 and was delivered to Cathay Pacific on April 23, 1996 as VR-HYD. The Airbus A330-300 was shortly after transferred to subsidiary Dragonair on July 30, 1996. Along the way, the registration number was changed to B-HYD. On March 4, 2011, the airliner was transferred to Air Transat. This aircraft is currently configured for a maximum total of 375 passengers with 12 seats in club class and 363 more in economy class.
On July 15, 2011, C-GTSO was flying from Toronto, Ontario to Dublin, Ireland. Upon takeoff, the left main gear outboard forward tire (front left) burst. Although the crew heard a thud, a bird hit was assumed and the flight continued on to Dublin with a safe landing. It was found that tire debris left two punctures in the aft section of the left wing, one 6 centimetres and one 4 CM. A replacement Airbus A330-300 (C-GKTS) was used for the return flight to Toronto. As mentioned above, C-GKTS is also one of the three airplanes painted in the special 30 year anniversary livery.
On March 25, 2016, the aircraft experienced a lighter incident. On a flight from Paris, France to Montreal, Quebec, the captain became inconvenienced and was unable to perform his duties for a span of about 30 minutes, starting somewhere over Shannon, Ireland. Not incapacitated, the speculation is the pilot experienced some sort of gastrointestinal problems.
A few months later, on June 10, 2016, C-GTSO was flying from London, England (Gatwick Airport) to Toronto, Ontario. On the initial climb, at 12,000 feet, the Airbus A330-300 experienced cabin pressurization problems. 70 minutes after departure, the airplane safely landed back at Gatwick. After three hours on the ground, the aircraft took off again and reached Toronto without further incident.
Airbus A330-300
The initial variant of the A330 family, the Airbus A330-300 was introduced with Air Inter (since merged with Air France) in January, 1994. The aircraft is 64 metres or 209 feet in length with a wingspan of 60 metres or 198 feet. At the tail, the airliner stands 17 metres or 55 feet in height. The flight range for the A330-300 is 11,750 kilometres.
Air Transat
Air Transat commenced operations in 1987 and is headquartered in Montreal, Quebec. The Canadian airline has a fleet that fluctuates above and below 30 aircraft, depending on the season. They fly to 60 destinations in 30 countries. The fleet consists of Airbus A330-300, Airbus A330-200, Airbus A310-300, Boeing 737-800 and Boeing 737-700 models.
Resources
More Like This: