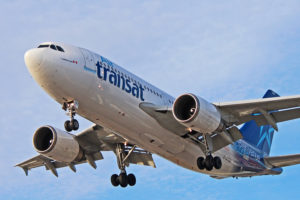 Just 41 Airbus A310-300 aircraft remain in service and eight of those can be found flying for Canada's Air Transat. C-GTSW began life in 1988 with TAP Portugal before coming to Air Transat in 2008. We photographed the airliner on October 22, 2017 while plane spotting at Toronto Pearson International Airport (YYZ).
For full-size, high resolution versions of any of the photos in the image gallery, simply click on the individual pictures. See below for more detailed information on C-GTSW, the Airbus A310-300 model in general and the airline.
C-GTSW Air Transat Airbus A310-300 Image Gallery
C-GTSW
C-GTSW took its first flight on August 5, 1988 before being delivered to TAP Portugal as CS-TEH. At the time, the Portuguese airline named the Airbus A310-304 Bartolomeu Dias. TAP Portugal was founded in March, 1945 and commenced operations in September of the following year. The member of the Star Alliance is headquartered in Lisbon, Portugal and has a fleet of 90 aircraft flying to 88 destinations. They no longer have an Airbus A310 models in the fleet.
The A310 was delivered to Air Transat on September 19, 2008. One of eight in the fleet, there were just over 250 ever put into service and just 41 remain in commercial service. Only Mahan Air has more with ten. This airliner is configured for a maximum total of 250 passengers with 12 seats in premium economy and 238 more in economy class.
A mostly incident free aircraft, while still with TAP Portugal on February 15, 2008 it did run into a bit of trouble. Flying from Lisbon, Portugal to Guinee Bissau, the aircraft had to return to its point of departure after an hour when a hydraulics issue was detected.
Airbus A310-300
The first Airbus A310 was introduced with Swissair in 1983. The first Airbus A310-300 variant also first entered service with Swissair in 1986. The aircraft is 47 metres or 153 feet in length with a wingspan of 44 metres or 144 feet. At the tail, the airliner stands 16 metres or 52 feet in height. The flight range is 8,300 kilometres.
Air Transat
Air Transat began service in 1987 and flies to more than 60 destinations in 30 countries. Headquartered in Montreal, Quebec, the airline is based at Toronto Pearson International Airport (YYZ) and Montreal Pierre Elliott Trudeau International Airport (YUL). The fleet fluctuates above and below 30 aircraft on a seasonal basis. Air Transat flies Airbus A330-300, Airbus A330-200, Airbus A310-300, Boeing 737-800 and Boeing 737-700 airliners.
Resources
More Like This: