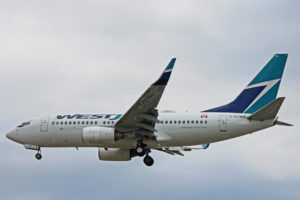 One of 56 Boeing 737-700 aircraft in the WestJet fleet, we photographed C-GTWS while plane spotting at Toronto Pearson International Airport (YYZ) on July 20, 2017. While mostly incident free, the 15 year old airliner has not gone without its problems over the years. More on that below.
For full-size, high resolution versions of the photos in the image gallery, simply click on the individual pictures. See below for more detailed information on C-GTWS, the Boeing 737-700 model in general and the airline.
C-GTWS WestJet Boeing 737-700 Image Gallery
C-GTWS
C-GTWS took its first flight on July 3, 2002 and was delivered to WestJet on July 19, 2002. The Boeing 737-76N is configured for a maximum total of 130 passengers with 12 Plus seats (premium economy) and 118 more seats in economy class. As mentioned, this is one of 56 737-700 airliners flying for WestJet, the most of any type of aircraft in the fleet.
On May 4, 2015, C-GTWS was flying from Calgary, Alberta to Kelowna, British Columbia. On approach to Kelowna, the aircraft encountered an unidentified VFR target. The crew took evasive action to avoid the intrusive airplane and landed safely.
A few months later, on July 31, 2015, the Boeing 737-700 was flying from Calgary to Toronto, Ontario. At 39,000 feet, just west of Winnipeg, Manitoba, a 1,400 lb. fuel imbalance was detected. The aircraft was diverted to Winnipeg for a safe landing. It was determined that the right side fuel quantity indication system had failed.
Boeing 737-700
The initial variant of the Boeing 737 Next Generation Family, the Boeing 737-700 first entered service with Southwest Airlines in 1998. Southwest continues to be the aircraft's primary user. It was followed by the shorter -600 model and the longer -800 and -900ER variants.
The airliner is 34 metres or 110 feet in length with a wingspan (with winglets) of 36 metres or 118 feet. At the tail, the airplane stands 13 metres or 41 feet in height. The flight range for the Boeing 737-700 is 5,570 kilometres.
WestJet
Founded in 1996 with a humble fleet of three Boeing 737-200 aircraft, WestJet has grown to have a collection of 121 airliners with 60 more on order. The fleet currently consists mostly of Boeing 737 NG variants with four Boeing 767-300ER and two Boeing 737 Max 8 added in. Coming are more Max 7 and Max 8 models, along with ten Boeing 787-9 Dreamliners.
Headquartered in Calgary, Alberta, WestJet flies to nearly 100 destinations in Canada, the United States, Europe, Mexico, Central America and the Caribbean. Wholly owned subsidiary WestJet Encore operates 41 Bombardier Dash 8 Q400 airplanes. A new wholly owned ultra low cost carrier subsidiary has been announced and will begin operations in the summer of 2018. Swoop will fly a small fleet of Boeing 737-800 aircraft.
Resources
More Like This: