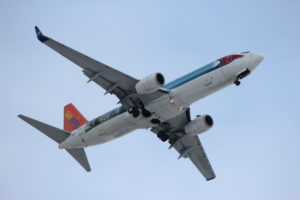 C-GVVH last flew for Sunwing in May of 2016. The aircraft has belonged to Travel Service, a charter airline from the Czech Republic, since 2008 and was leased seasonally to Sunwing for several years. In 2015, when the images in the gallery below were taken, the Boeing 737-800 was painted with a unique livery showing seascapes from Cabo in Mexio, one of Sunwing's several sunshine destinations.
The images in the gallery were taken on January 31, 2015 at Toronto Pearson International Airport (YYZ) in Mississauga, Ontario. For full-size, high definition versions for any of the photos, simply click on the individual pictures in the gallery. See below for more info on this specific aircraft, the Boeing 737-800 model in general and both Sunwing and Travel Service.
C-GVVH Sunwing Airlines Boeing 737-800 Image Gallery
C-GVVH
C-GVVH made its first flight on April 25, 2008 and was delivered to Travel Service as OK-TVH on May 13, 2008. Several times since October, 2008, Travel Service has leased this airplane out seasonally to airlines like Tajik Air, Somon Air, Oman Air, and, of course, Sunwing. It was last returned from Sunwing on May 6, 2016 and did not spend the 2016-17 winter season with the Canadian airline. As of February 1, 2017, this Boeing 737-8Q8 is back in service with Travel Service.
Very shortly before the images in the gallery were taken, January 4, 2015, C-GVVH was involved in an incident performing a flight from Quebec City (YQB) to Cayo Coco, Cuba. After takeoff, an emergency was declared because of a flap problem. The aircraft returned safely to Quebec City without further problems.
A few months later, on June 6, 2015, the Boeing 737-800 was flying as OK-TVH by Travel Service, on behalf of SmartWings. On a flight from Katowice, Poland to Corfu, Greece, a tire burst while accelerating for takeoff and the crew rejected the takeoff at high speed. This caused the runway to be closed for about an hour while the aircraft was inspected and removed from the runway. A replacement Boeing 737-800 delivered the passengers to their destination with a three hour delay.

Boeing 737-800
The Boeing 737-800 is a stretched version of the 737-700 and first entered service with Hapaq-Lloyd Flug (TUIfly) in 1998. The -800 is 19 feet longer than the older -700 version. The first ever Boeing 737 model was introduced in 1968 with Lufthansa.
This type of aircraft is 40 metres or 130 feet in length with a wingspan of 36 metres or 118 feet. The height at the tail is 13 metres or 41 feet. The cruise range fully loaded with winglets (C-GVVH has the winglets installed) is 5,765 kilometres.

Sunwing Airlines
Sunwing was founded in 2005 and is a low cost charter airline headquartered in Toronto, Ontario. The fleet fluctuates seasonally but is typically between 35 and 40 aircraft. The fleet is entirely made up of Boeing 737-800 aircraft. All are leased from a handful of European airlines, including Thomson Airways, TUIfly Belgium, TUIfly Germany, SmartWings and Travel Service. Sunwing flies to 73 destinations.

Travel Service
Travel Service is a charter airline from the Czech Republic that was founded in 1997. They are headquartered in Prague and have subsidiaries in Poland, Hungary and Slovakia. The Travel Service fleet consists of between 19 aircraft, all variants of the Boeing 737. There are also four more airplanes in their business jet fleet. Travel Service flies to 91 destinations.

Resources
More Like This: