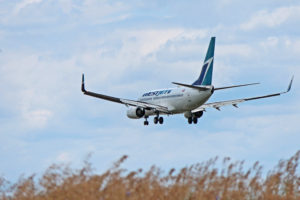 C-GWAZ is one of 56 Boeing 737-700 aircraft in the WestJet fleet. We photographed this airliner on July 29, 2017 while plane spotting at Toronto Pearson International Airport (YYZ). Back in 2012, the Boeing 737 had engine trouble on a flight from Winnipeg, Manitoba to Calgary, Alberta. More on that below.
For full-size, high resolution versions of any of the photo in the image gallery, simply click on the individual pictures. See below for more detailed information on C-GWAZ, the Boeing 737-700 model in general and the airline.
C-GWAZ WestJet Boeing 737-700 Image Gallery
C-GWAZ
C-GWAZ took its first flight on June 7, 2004 and was delivered to WestJet on June 18, 2004. As mentioned, this is one of 56 Boeing 737-700 aircraft in the fleet with the fleet mostly made up of 737 variants. The airliner is configured for a maximum total of 130 passengers with 12 seats in Plus (premium economy) and 118 more in economy class.
On December 4, 2012, C-GWAZ was flying from Winnipeg, Manitoba to Calgary, Alberta. At 40,000 feet, 135 miles east of Regina, Saskatchewan, the right hand generator failed. Following that, a strong burning electrical smell was detected throughout the aircraft. The Boeing 737-700 was diverted to Regina for a safe landing a half hour later. The incident resulted in the replacement of the burned out generator control unit.
Boeing 737-700
The Boeing 737-700 was the first variant of the Next Generation models. The first entered service with Southwest Airlines in 1998 and that airline remains the primary user of this kind of aircraft.
The airliner is 34 metres or 110 feet in length with a wingspan of 36 metres or 118 feet (with winglets retrofited). This is the same wingspan shared with all Next Generation variants. At the tail, the airplane stands 13 metres or 41 feet in height. The flight range is 5,570 kilometres.
WestJet
Founded in 1996, WestJet is headquartered in Calgary, Alberta and is Canada's second largest airline. Their growing fleet, now over 120 aircraft, will climb to over 180 over the next year or two. These aircraft fly to 92 destinations in Canada, the United States, Europe, Mexico, Central America and the Caribbean.
Although mainly made up of Boeing 737 NG aircraft, the WestJet fleet has added four Boeing 767-300ER models to expand flights to Europe. They have also taken on their first Boeing 737 Max 8 models and have Boeing 787-9 Dreamliner aircraft on order.
The fleet numbers do not include subsidiary WestJet Encore which flies 41 Bombardier Dash 8 Q400 airplanes. Coming in June, 2018 is wholly owned ultra low cost subsidiary Swoop. This airline will fly strictly Boeing 737-800 models to start.
Resources
More Like This: