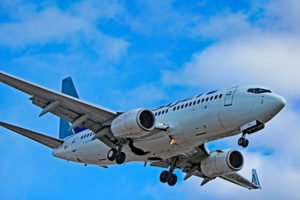 One of 56 Boeing 737-700 narrow body jet aircraft in the WestJet fleet, C-GWBJ was spotted here on March 12, 2017, on final approach to Toronto Pearson International Airport (YYZ) in Mississauga, Ontario. This model is the most numerous in the WestJet fleet with the airline currently flying mostly Boeing 737 models, along with four Boeing 767-300ER aircraft.
For full-size, high resolution versions of any of the photos in the image gallery below, simply click on the individual pictures. See below for more detailed information on C-GWBJ, the Boeing 737-700 model in general and the airline.
C-GWBJ WestJet Boeing 737-700 Image Gallery
C-GWBJ
C-GWBJ made its first flight on September 12, 2003 and was delivered to WestJet on September 15, 2003 and has been performing WestJet flights every since. The aircraft is currently configured for a total maximum of 130 passengers with 12 seats in premium 'plus' economy and 118 more in economy class.
On January 24, 2013, the Boeing 737-7CT had a bit of an issue on a flight from Toronto, Ontario to Ottawa, Ontario. Nearly at their cruising altitude, the crew detected a fuel imbalance of around 1,000 pounds. However, the aircraft continued on to Ottawa and landed safely. The imbalance resulted from a fuel cross feed valve that was stuck in the open position with a circuit breaker popped. The circuit breaker was reset and the issue was resolved.
Boeing 737-700
The first of the 737 Next Gen models, the Boeing 737-700 entered service in 1998 with Southwest Airlines. Southwest remains the aircraft's primary user. As mentioned, WestJet has 56 of this type of airplane in their fleet.
The Boeing 737-700 is 34 metres or 110 feet in length with a wingspan (with winglets installed) of 36 metres or 118 feet. That wingspan is common across all next generation models from the smallest -600 to the largest -900ER. At the tail, the airplane stands 13 metres or 41 feet in height. The flight range for the Boeing 737-700 is 5,570 kilometres.
WestJet
Founded in 1996 and headquartered in Calgary, Alberta, Canada, WestJet Airlines has a fleet of 119 aircraft and flies to 92 destinations (numbers do not include the Encore regional carrier subsidiary). These destinations are found in Canada, the United States, Europe, Mexico, Central America and the Caribbean Islands.
The main fleet currently consists of Boeing 737-600, 737-700 and 737-800 aircraft, along with four Boeing 767-300ER models. On order are Boeing 737 Max 7, Boeing 737 Max 8 and Boeing 787-9 Dreamliner.
Resources
Boeing 737 Next Generation Aircraft
More Like This: