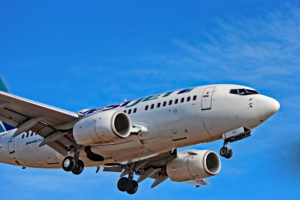 It was one of the last Boeing 737-600 aircraft produced. C-GWCT has been with Westjet since 2006 and is one of 13 of this model in their fleet. This Boeing 737 had an exciting landing in Montreal back in 2015 when it overran the runway.
For full-size, high resolution versions of any of the photos in the image gallery, simply click on the individual pictures. The images were taken on March 13, 2012 at Toronto Pearson International Airport (YYZ). See below the gallery for more detailed information on this specific airplane, the Boeing 737-600 model in general and the airline.
C-GWCT Westjet Boeing 737-600 Image Gallery
C-GWCT
C-GWCT is a Boeing 737-6CT that made its first flight on July 28, 2006. The aircraft was delivered to Westjet on August 11, 2006. This is one of 13 Boeing 737-600 airplanes in Westjet's fleet and one of the last Boeing 737-600's to be built. The airplane is configured for 12 business class seats along with 101 in economy class for a total of 113 potential passengers.
On June 5, 2015, C-GWCT was performing a flight from Toronto Pearson Airport (YYZ) to Montreal Pierre Elliott Trudeau International Airport (YUL). The Boeing 737 overran the end of the runway and came to a stop on soft ground. There was no damage to the aircraft and no injuries to passengers and crew.

Boeing 737-600
A direct competitor of the Airbus A318, the Boeing 737-600 is a replacement for the Boeing 737-500. The first was to be launched with Westjet but instead went to SAS Scandinavian Airlines, delivered o September 18, 1998.
In all, just 69 -600 models were produced with the final one going to Westjet in 2006. The aircraft is 31 metres or 103 feet in length with a wingspan of 34 metres or 113 feet. With winglets installed, the wingspan increased to 36 metres or 18 feet. At the time the images here were taken, C-GWCT did not have winglets installed.
At the tail, the Boeing 737-600 stands 13 metres or 41 feet tall. The maximum flight range for this aircraft is 5,991 kilometres.

Westjet
Westjet was founded in 1996 and is headquartered in Calgary, Alberta. The fleet of 119 airplanes is made up of Boeing 737-600, 737-700, 737-800 and 767-300ER with 737 Max 7 and 737 Max 8 models on order. The airline travels to 91 destinations.
Westjet Encore is a wholly owned subsidiary that is not included in the fleet and destination numbers given above. Encore flies exclusively Bombardier Q400 aircraft.

Resources
More Like This: