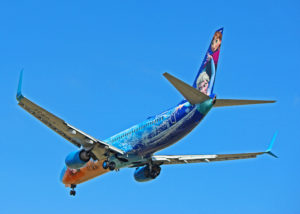 We've added an updated image gallery featuring much better photos of C-GWSV. See below!
The images are sub-par, as far as positioning. However, I had to use them because it's possible I might not get the chance to photograph this unique airplane again. C-GWSV is a Boeing 737-800 belonging to Westjet airlines. Since 2015, the airplane has been specially painted with characters from Disney's movie 'Frozen'.
Westjet is a great airline. But, for plane spotters in Toronto, it would be like folks at U.S. airports with Southwest Airlines. You simply see so many and they're all basically the same type of aircraft. Therefore, when I saw this one coming, I presumed that it was just a regular Westjet 737 and did not have the camera ready.
The images here were taken on April 22, 2016 at Toronto Pearson International Airport (YYZ). For large sized, high definition versions of the images in the gallery, simply click on the individual photos. For more information on this specific aircraft, Boeing 737-800's in general and the airline, see below.
C-GWSV Westjet Boeing 737-800 Image Gallery
C-GWSV WestJet Frozen Livery Updated Image Gallery (July 2, 2017)
C-GWSV
C-GWSV made its first flight on March 5, 2009 and was delivered to Westjet on March 20, 2009. The Boeing 737-800 is configured with 12 premium economy seats and 156 more in economy class for a potential total of 168 passengers.
The Disney Frozen design was completed in 2015. The painting was done in Fort Worth, Texas. It took 21 days of non-stop 12 hour rotating shifts with a constant crew of six to complete the job.
On September 1, 2014, C-GWSV was involved in an incident that is indicative of the times. The Boeing 737-800 was enroute between San Diego, California and Calgary, Alberta (YYC). On final approach at Calgary, a remote control drone crossed the airliner's flight path. The landing was continued at the plane was on the ground a few minutes later.

Boeing 737-800
The stretched version of the Boeing 737-700, the -800 is 130 feet or 40 metres long, 19 feet longer than the -700 model. The wingspan is 118 feet or 36 metres and at the tail, the aircraft stands 41 feet or 13 metres tall.
The first Boeing 737 of any variety was introduced with Lufthansa in 1968. In 1998, Hapaq-Lloyd Flug (Now TUIfly) was the first to use the Boeing 737-800. Cruise range for one of these aircraft is 5,765 kilometres with winglets installed. C-GWSV clearly has the latest Split Scimitar winglets installed.

Westjet
Westjet Airlines was founded in 1996 and is headquartered in Calgary, Alberta. The airline currently travels to 92 destinations with a fleet of 119 (these numbers do not include Westjet Encore). The current fleet consists of Boeing 737-600, Boeing 737-700, Boeing 737-800 and Boeing 767-300ER. n order are Boeing 737 Max 7 and Boeing 737 Max 8. Westjet Encore flies Bombardier Q400's.

Resources
Disney Frozen Movie
More Like This: