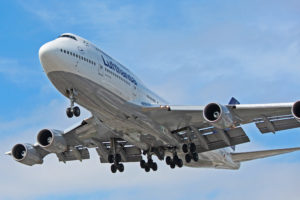 Lufthansa is a little less aggressive than some airlines in getting rid of their Boeing 747-400 aircraft. D-ABTL could be around until 2025, when the last of the German airline's B744 airliners will be retired. We photographed D-ABTL on July 20, 2017 while plane spotting at Toronto Pearson International Airport (YYZ). The airplane was involved in a costly incident in 2012 when it had to be diverted to Goose Bay, Labrador in Canada after a coffee maker went on the fritz. More on that below.
For full-size, high resolution versions of any of the photos in the image gallery, simply click on the individual pictures. See below for more detailed information on this airplane, the Boeing 747-400 model in general and the airline.
D-ABTL Lufthansa Boeing 747-400 Image Gallery
D-ABTL
D-ABTL took its first flight on February 28, 2002 and was delivered to Lufthansa on March 15, 2002. Named Dresden, the Boeing 747-400 is one of 13 in the Lufthansa fleet. The aircraft is configured for a maximum total of 371 passenger with 67 seats in business class, 32 more in premium economy and 272 in economy class.
On October 26, 2012, D-ABTL was flying from Chicago, Illinois to Frankfurt, Germany. At 33,000 feet and 520 miles northwest of Goose Bay, Newfoundland and Labrador in Canada, the crew detected smoke in the cabin. The B744 was diverted to Goose Bay for a safe landing. Because of Goose Bay's remote location, another Lufthansa Boeing 747-400 departing the following day from Frankfurt to Chicago also had to divert to the Labrador city to drop off two mechanics to fix the problem.
The issue at hand turned out to be a coffee maker that had malfunctioned. A circuit breaker was replaced and the aircraft was deemed safe. The delay for this airplane was 24 hours. The delay for D-ABVD, the Boeing 747 that dropped off the mechanics was three hours.
Twice, D-ABTL has worked in relief of D-ABVU when that aircraft has had mechanical issues. We previously featured that Boeing 747-400 here: D-ABVU.
Boeing 747-400
The first Boeing 747-400 flew in 1988 and was first introduced in 1989 with Northwest Airlines (since merged into Delta Air Lines). In all, 694 were produced with the last one delivered in 2009. The jumbo jet is 71 metres or 232 feet in length with a wingspan of 64 metres or 212 feet. At the tail, the airliner stands 19 metres or 64 feet in height. The flight range for the B744 is 13,490 kilometres.
Lufthansa
Lufthansa was founded in 1953 and began operations in 1955. Headquartered in Cologne, Germany, the airline uses Frankfurt and Munich as their main hubs. Lufthansa flies to 220 destinations with a main fleet of 280 aircraft. Including subsidiaries, that fleet count grows to over 650. The fleet includes 14 Airbus A380-800 and 19 Boeing 747-8 airliners, along with their 13 remaining Boeing 747-400 models.
The airline is a founding member of the Star Alliance, along with Scandinavian Airlines, Thai Airways International, Air Canada and United Airlines. The alliance is headquartered in Frankfurt am Main, Germany and now has 27 full member airlines.
Resources
More Like This: