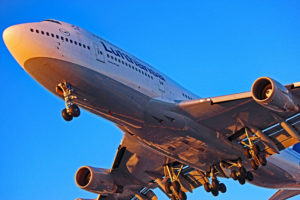 D-ABVP is not the first Lufthansa Boeing 747-400 we've featured here. Not all that long ago, we put up images of D-ABVR. However, the magic of these images is the sunset lighting and the use of a different lens.
The images below of D-ABVP were taken on January 1, 2017 at Toronto Pearson International Airport (YYZ). For full sized, high definition images, simply click on any of the individual photos in the gallery. For more information on this particular airplane, the airline and Boeing 747-400's in general, see below.
D-ABVP Lufthansa Boeing 747-400 Image Gallery
D-ABVP
D-ABVP made its first flight on February 10, 1997 and was delivered to Lufthansa on February 25, 1997. Since, the plane has been named Bremen by the German airline. This airliner was built at Boeing's Everett, Washington factory.
The airplane was involved in an incident on June 10, 2010 but it was not mechanical. Traveling from Mexico City to Frankfurt, Germany, the Boeing 747-400 had to be diverted to St. John's, Newfoundland in Canada.
A 45 year old male passenger became more and more disruptive, culminating with the man urinating in the aisle. The Boeing 747-400 landed safely at St. John's (YYT) and the passenger was taken into custody by Canadian police. D-ABVP continued on to Frankfurt after a two hour delay in Newfoundland.
The passenger was convicted of endangering the aircraft, resulting in a $10,000 fine.

Boeing 747-400
The first ever Boeing 747 was introduced in 1969 and was instantly the superstar of the airways. The 400 version came along in the late 1980's with the first flight in 1988 and the initial introduction into the market in 1989.
694 Boeing 747-400's were built and many are now retired or in a phase-out stage. The jumbo jet is 70.7 metres in length with a wingspan of 64.4 metres. The height at the tail is 19.4 metres. The cruise range is 12,500 kilometres.

Lufthansa
Lufthansa was founded in 1953 and began operations in 1955. Currently, the airline is headquartered in Cologne, Germany with main hubs in Frankfurt and Munich. Lufthansa flies to 220 destinations with a fleet of 275.
The airline is a founding member of the Star Alliance. Star was founded in May of 1997 and is headquartered at Frankfurt am Main in Germany. This is the second largest airline alliance behind the Delta Airlines led SkyTeam.
Star Alliance has 27 members with Juneyao Airlines of China slated to join in 2017. The founding members are Scandinavian Airlines, Thai Airways International, Air Canada, Lufthana and United Airlines.

Resources
More Like This: