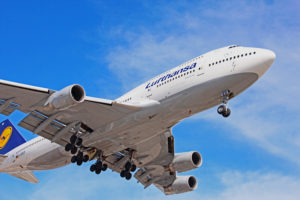 This Boeing 747-430 was seen landing at Toronto Pearson International Airport (YYZ) on August 17, 2016. The jumbo jet belongs to Lufthansa and is registered as D-ABVR. This 20 year old jet might not be seen all that much longer. Boeing 747-400's are no longer built and many of the 694 that were put in production are either retired or scheduled to be retired.
Click through the images below for the full sized version. See below the images for more information on the airplane and airline.
D-ABVR Lufthansa Boeing 747-430 Images
D-ABVR
This airliner has been around since March, 1997 and has always belonged to Lufthansa. Nicknamed 'Koln', she is configured with 67 business class seats, 32 premium economy seats and 272 economy seats.
Based out of Frankfurt, Germany, this Boeing 747 has an excellent safety record. There was a single incident which happened on August 1, 2015. The plane was enroute from Orlando, Florida to Frankfurt when the number 1 engine shutdown near New York City. The plane landed safely at JFK. The plane remained grounded until August 7.
This airliner (D-ABVR) is 70.7 metres in length with a wingspan of 64.4 metres. At the tail, she is 19.4 metres high. The flight range is 12,500 km.
Boeing 747-400
The first 747 was introduced in 1969. The Boeing 747-400 version had its first flight in 1988 and was introduced to the market in 1989. In total, 694 were built. The plane is being retired because fuel efficiency is very poor against more modern aircraft.
Lufthansa
Lufthansa was founded in 1953 and began operations in 1955. Headquartered in Cologne (Koln), Germany, the main hubs are Frankfurt and Munich.The airline is a founding member of the Star Alliance.
The airline still has 13 Boeing 747-400's in their fleet as of September, 2016. A safe airline, Lufthansa has not has an incident involving a fatality since 1993.
More Like This: