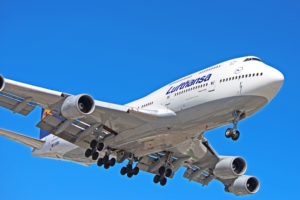 One of 13 Boeing 747-400 aircraft in the Lufthansa fleet (and we're slowly capturing them all), D-ABVU was spotted at Toronto Pearson International Airport (YYZ) on June 8, 2017. Nicknamed 'Bayern', this Boeing 747 has been hit by lightning and had an incapacitated pilot through the years but remains a strong member of the Lufthansa fleet.
For full-size, high resolution versions of the photos in the image gallery, simply click on the individual pictures. See below for more detailed information on D-ABVU, the Boeing 747-400 model in general and the airline.
D-ABVU Lufthansa Boeing 747-400 Image Gallery
D-ABVU
D-ABVU made its first flight on December 8, 1998 and was delivered to Lufthansa on December 21, 1998. The Boeing 747-400 is nicknamed Bayern by the airline. This is one of 13 Boeing 747-400 aircraft in the airline's fleet and is configured or a maximum total of 371 passengers with 67 seats in business class, 32 more in premium economy and 272 seats in economy class.
On September 30, 2011, D-ABVU was flying from Frankfurt, Germany to Chicago, Illinois. Climbing out of Frankfurt, the airplane was hit by lightning. After leveling at 15,000 feet, the Boeing 747-400 returned to Frankfurt safely 80 minutes after departure.
On February 27, 2015, D-ABVU was flying from Vancouver, British Columbia to Frankfurt, Germany when the captain became ill near Greenland and had to leave the cockpit. The flight continued with the first officer landing the plane safely.
Boeing 747-400
The first Boeing 747-400 made its first flight in 1988 and was introduced with Northwest Airlines (since merged with Delta Air Lines) in 1989. 694 were built with the last one delivered in 2009. Many are now being retired by major airlines around the world, replaced by more fuel efficient models.
The Boeing 747-400 is 71 metres or 232 feet in length with a wingspan of 64 metres or 212 feet. At the tail, the aircraft stands 19 metres or 64 feet in height. The flight range for the Boeing 747-400 is 13,490 kilometres.
The first Boeing 747 of any kind was introduced in 1969 with Pan American World Airways.
Lufthansa
Lufthansa was founded in 1953 and commenced operations in 1955. Headquartered in Cologne, Germany, the airline's main hubs are in Frankfurt and Munich. Lufthansa flies to 220 destinations worldwide with a main fleet of 280 aircraft. Including subsidiaries, the fleet balloons to 656. Included are 14 Airbus A380-800 and 19 Boeing 747-8.
This is a founding member of the Star Alliance, along with Scandinavian Airlines, Thai Airways International, Air Canada and United Airlines. There are now 27 full members in the alliance that is headquartered in Frankfurt am Main, Germany.
Resources
More Like This: