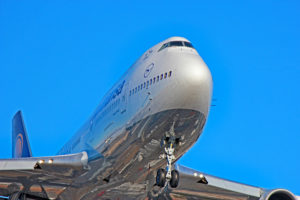 There are 13 Boeing 747-400 left in the Lufthansa fleet and D-ABVX is the third we've featured here at It's About Airplanes. This Boeing 747 was photographed on February 17, 2017 at Toronto Pearson International Airport (YYZ) in Mississauga, Ontario.
For full-size, high resolution versions for any of the photos in the image gallery, simply click on the individual pictures. See below for more detailed information on this particular airplane, the Boeing 747-400 model in general and the airline.
D-ABVX Lufthansa Boeing 747-400 Image Gallery
D-ABVX
D-ABVX made its maiden flight on December 12, 1999 and was delivered to Lufthansa on December 22, 1999, nicknamed Schleswig-Holstein. This is one of 13 Boeing 747-400 aircraft in service with the Lufthansa fleet.
The airplane is configured with 67 business class seats, 32 more in premium economy and 272 in economy class for a potential total of 371 passengers at capacity. The Boeing 747-400 remains the third largest aircraft in the Lufthansa fleet, behind the Airbus A380-800 and Boeing 747-8.
On September 19, 2009, D-ABVX was performing a flight from Frankfurt, Germany to New York's JFK Airport. Past Iceland, about three hours into the flight, an oil leak was noticed in the number 3 engine. That engine was reduced to idle and the crew made the decision to return to Frankfurt. The Boeing 747-400 landed safely. It was found that an oil pipe in engine 3 was ruptured.

Boeing 747-400
The -400 version of the Boeing 747 family made its first flight in 1988 and was introduced in 1989 with Northwest Airlines (Northwest merged with Delta Air Lines in 2010). In all, 694 of this model were built with many now retired or slated for retirement in the coming years. The first Boeing 747 of any kind was introduced in 1969.
The Boeing 747-400 is 71 metres or 232 feet in length with a wingspan of 64 metres or 211 feet. At the tail, the aircraft stands 19 metres or 64 feet in height. The flight range for this airplane is 12,500 kilometres.

Lufthansa
Lufthansa was founded in 1953 and commenced operations in 1955. The airline is headquartered in Cologne, Germany with main hubs in Frankfurt and Munich. Lufthansa flies to 220 destinations with a fleet of 275 aircraft and has gone without an incident involving fatality since 1993.
Along with Scandinavian Airlines, Thai Airways International, Air Canada and United Airlines, Lufthansa founded the Star Alliance in 1997. This is the world's second largest airline alliance behind the Delta Air Lines led SkyTeam. Star has 28 members worldwide. The alliance is headquartered in Frankfurt am Main in Germany.

Resources
Lufthansa Boeing 747-400 Seating Map
More Like This: