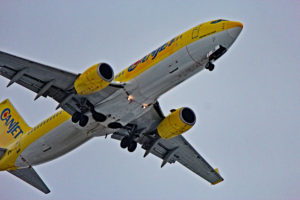 It was a dark and dreary day in February, 2014 when I took these pictures. It would be a dark and dreary day about a year and a half later when CanJet ceased to exist. D-ATUG was a Boeing 737-800 that was leased to CanJet from TUIfly. The airplane is now back with the Germany based airline with the same registration number.
For full-sized, high definition images, simply click on the individual photos in the gallery below. If you do, you will notice the rather poor job of covering up the TUIfly branding. On the last image, you can see that the supposed Canadian airliner has a German flag beside the registration number, near the back end.
See below for more information on this specific airliner, the Boeing 737-800 in general and both CanJet and TUIfly.
D-ATUG CanJet Boeing 737-800 Image Gallery
D-ATUG
Officially a Boeing 737-8K5, D-ATUG took its first flight on March 22, 2006 and was delivered to Hapag Lloyd Flug on March 30, 2006. The brand was switched to TUIfly on January 15, 2007.
D-ATUG was leased to CanJet three times between 2008 and 2013, mostly for charter flights to the Caribbean for all-inclusive vacation packages. The last time it was leased was from December 14, 2013 to April 29, 2014. The airliner was configured in a one class system, cramming in 189 passengers.

Boeing 737-800
The stretched version of the Boeing 737-700, the 737-800 was first introduced with Hapag-Lloyd Flug in 1998. The first Boeing 737 of any kind was introduced to another German airline in 1968, Lufthansa.
The Boeing 737-800 is 40 metres or 130 feet in length with a wingspan of 36 metres or 118 feet. At the tail, the airliner is 13 metres or 41 feet in height. Cruise range for a fully loaded Boeing 737-800 with winglets is 5,765 kilometres. As you can see in the images above, D-ATUG has the winglets installed.

CanJet
CanJet was founded on June 20, 2002 and ceased operations on September 1, 2015. The airline was headquartered in Enfield, Nova Scotia and was under parent company IMP Group International. Originally, CanJet was established in 1999 and merged with Canada 3000 shortly before going bankrupt.
At the time of the airline's demise, there were six airplanes in the fleet, all Boeing 737-800. The airline boasted 37 destinations to sunshine locations. However, in the beginning, CanJet provided regularly scheduled flights before moving to a charter only system in September, 2006. CanJet often covered flights for Air Transat.

TUIfly
Founded in 1972 as Hapag-Lloyd Flug, the name was switched to TUIfly in 2007. Currently, the airline has a fleet of 40 aircraft, consisting of 35 Boeing 737-800, four Boeing 737-700 and one Boeing 767-300ER. TUIfly flies to 39 destinations and is headquartered in Langenhagen, Germany.

Resources
More Like This: