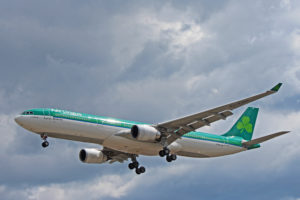 The largest in the Aer Lingus fleet, EI-FNG is one of seven Airbus A330-300 aircraft currently in service for the Ireland based airline with one more coming by the end of 2017. We photographed this airplane while plane spotting at Toronto Pearson International Airport (YYZ) on July 29, 2017.
For full-size, high resolution versions of any of the photos in the image gallery, simply click on the individual pictures. See below for more detailed information on EI-FNG, the Airbus A330-300 model in general and the airline.
EI-FNG Aer Lingus Airbus A330-300 Image Gallery
EI-FNG
EI-FNG took its first flight on August 19, 2016 and was delivered to Aer Lingus on August 31, 2016. Named St. Colmcille (labeled just below the cockpit side window), the Airbus A330-302 is configured for a maximum total of 317 passengers with 30 seats in business class and 287 more seats in economy class. As mentioned, this is the largest aircraft in the Aer Lingus fleet and one of seven A333 airplanes with one more on the way.
On May 21, 2017, the A330-300 was involved in a somewhat minor incident at New York's John F. Kennedy International Airport (JKF). The airliner was struck by a cargo loader, resulting in the passengers being deboarded and the flight cancelled. There were no injuries.
Airbus A330-300
The Airbus A330-300 was introduced with France's Air Inter in January, 1994 after taking its first flight in November, 1992. Air Inter has since been merged into Air France. This is the initial variant of the A330 Family with the more compact Airbus A330-200 coming later. The airliner is in direct competition with the Boeing 777-200.
The A333 is 64 metres or 209 feet in length with a wingspan of 198 feet or 60 metres. The height at the tail is 17 metres or 55 feet. This aircraft has a flight range of 11,750 kilometres.
Aer Lingus
Aer Lingus was founded and commenced operations in 1936. The airline is headquartered in Dublin, Ireland at the Dublin Airport (DUB) and is owned by International Airlines Group (owners of British Airways, Vueling and Iberia). They have a fleet approaching 50 aircraft and fly to over 90 destinations worldwide. Aer Lingus has staved off three takeover attempts by ultra low cost carrier Ryanair.
The all Airbus fleet is led in size by the Airbus A330-300. Aer Lingus has on order Airbus A350-900 and Airbus A321LR aircraft.
Resources
More Like This: