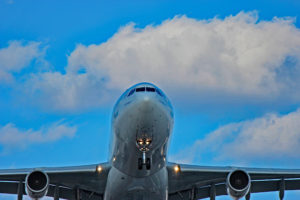 You won't spot any Airbus A340 aircraft landing at Toronto Pearson International Airport (YYZ) these days. If you do, it's a fortified rarity. The images below of F-GLZI were taken on March 13, 2012. The Airbus A340-300 is still in service with Air France today.
For full-sized, high resolution versions of any of the images in the gallery, simply click on the individual photos. See below for more detailed information on this specific aircraft, the Airbus A340-300 model in general and the airline.
F-GLZI Air France Airbus A340 Image Gallery
F-GLZI
F-GLZI made its first flight on July 12, 1995 and was delivered to Air France on August 7, 1995. This is one of ten Airbus A340-300 airplanes still in service today for Air France. The airliner is configured for 30 business class passengers, 21 more in premium economy class and 224 in economy class.
The airplane has been involved in a few incidents over the years, the most recent on January 8, 2017. On a flight from Paris Charles de Gaulle Airport to Detroit, Michigan, the crew stopped the climb out of Paris and returned after a fuel dump. A landing gear door issue was the issue.
Back on July 22, 2009, F-GLZI was flying from Boston, Massachusetts to Paris, France. The crew declared mayday shortly after takeoff with an indication that the number 4 engine was on fire. After shutting down the engine and dumping fuel, the Airbus A340 landed safely back at Boston Logan. It was then determined that the engine was not on fire and it was a false indication.

Airbus A340-300
The Airbus A340-300 is the initial version of the Airbus A340 family, despite the logically named Airbus A340-200 version. The first flight occurred on October 25, 1991 and the first of the model entered service in March of 1993 with Lufthansa.
218 of the A340-300 model were produced between 1993 and 2008 by Airbus. Today, there are still 135 in service with airlines worldwide.
The length of the aircraft is 64 metres or 209 feet with a wingspan of 60 metres or 198 feet. At the tail, the airplane stands 17 metres or 56 feet tall. The flight range for the Airbus A340-300 is 13,500 kilometres.

Air France
Founded in 1933, Air France currently has a fleet of 233 airliners, traveling to 204 destinations around the world. The airline is headquartered at Paris Charles de Gaulle Airport in Tremblay-en-France. Air France merged with KLM Royal Dutch Airlines in 2004.
Air France is a member of the SkyTeam Alliance. SkyTeam was founded in 2000 and now has 20 full members. Air France was a founding member, along with AeroMexico, Delta Air Lines and Korean Air. The alliance is headquartered at Amsterdam Schiphol Airport.

Resources
More Like This: