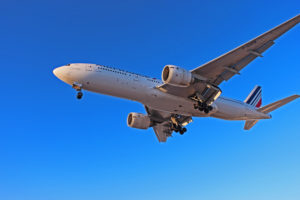 F-GSPB is a Boeing 777-200ER belonging to Air France and was spotted at Toronto Pearson International Airport (YYZ) in New Year's Day, 2017. Air France can be seen daily landing in Toronto and it would be nice, some day, to see them bring an Airbus A380 to YYZ.
For full-size, high resolution versions of any of the images in the gallery below, simply click on the individual pictures. See below for more detailed information on this specific aircraft, the Boeing 777-200ER model in general and the airline.
F-GSPB Air France Boeing 777-200ER Image Gallery
F-GSPB
F-GSPB took its first flight on April 6, 1998 and was delivered to Air France on April 21, 1998. This is one of 25 Boeing 777-228ER aircraft in the Air France fleet. The airplane is configured with 28 seats in business class, 24 more in premium economy and 260 in economy class for a total maximum of 302 passengers.
The aircraft has been involved in a few incidents over the years. On December 9, 2009, F-GSPB was flying from Paris, France to Sao Paulo, Brazil. A hydraulics failure was detected on approach to Guarulhos International Airport (GRU) in Sao Paulo. The airplane landed safely and passengers exited in a regular manner at the terminal.
June 14, 2010 was an odd day for F-GSPB. The Boeing 777-200ER was flying from Paris to Washington, DC in the United States. About 90 minutes into the Atlantic Ocean crossing, the airplane turned around and diverted to Shannon, Ireland. A passenger was then taken by ambulance to hospital. That flight then returned to Paris, instead of continuing on to Washington, eight and a half hours after taking off.

Boeing 777-200ER
The ER is for extended range. The Boeing 777-200ER has a flight range of 13,080 kilometres, around 3,400 KM more than a base 777-200. However, the flight range is some 2,800 KM less than the 777-200LR (longer range) version.
The first -200ER was introduced in 1997 with British Airways. The aircraft is 64 metres or 209 feet in length with a wingspan of 61 metres or 200 feet. At the tail, the Boeing 777-200ER stands 19 metres or 61 feet in height.

Air France
Air France was founded in 1933 and is headquartered at Charles de Gaulle Airport (CDG) in Tremblay-en-France. Major hubs are at CDG and Orly Airport. There are 233 aircraft in the airline's fleet and Air France flies to over 200 destinations worldwide. The airline merged with KLM Royal Dutch Airlines in 2003.
In the fleet, there are 25 Boeing 777-200ER airplanes, along with 43 Boeing 777-300ER. Air France retired all of its Boeing 747 aircraft in 2016 and has ten Airbus A380-800 as the airline's flagship.

Resources
Paris Charles de Gaulle Airport
More Like This: