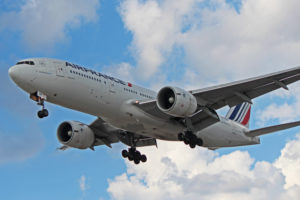 We photographed F-GSPF on September 14, 2017 while plane spotting at Toronto Pearson International Airport (YYZ). The Boeing 777-200ER is just a few years away from 20 years in the skies and has provided excellent service for Air France. The only incidents of note with this aircraft involved the air conditioning systems. More on that below.
For full-size, high resolution versions of any of the photos in the image gallery, simply click on the individual pictures. See below for more detailed information on F-GSPF, the Boeing 777-200ER model in general and the airline.
F-GSPF Air France Boeing 777-200ER Image Gallery
F-GSPF
F-GSPF took its first flight on March 1, 1999 and was delivered to Air France on March 11, 1999. One of 25 Boeing 777-200ER models in the fleet, this airliner is configured for a maximum total of 280 passengers with 40 seats in business class, 24 in premium economy and 216 in economy class.
On December 11, 2014, the B772 was flying from Atlanta, Georgia in the United States to Paris, France. Just south of Philadelphia, Pennsylvania, the crew made the decision to return to Atlanta. The issue was a problem with the air conditioning and cabin pressure. It took a half hour to fix the problem and the Boeing 777-200ER was again on its way to Paris.
Four days later, on December 15, 2014, F-GSPF was flying from Paris to San Francisco, California. Just past Inverness, Scotland, the crew again diverted back to Paris after two of the air conditioning systems failed again.
Boeing 777-200ER
The extended range variant, the Boeing 777-200ER can fly up to 13,080 kilometres in a single flight, 3,400 KM more than the base B772. This variant was first introduced with British Airways in 1997. The aircraft is 64 metres or 209 feet in length with a wingspan of 61 metres or 200 feet. At the tail, the airliner is 19 metres or 61 feet in height.
Air France
Founded in 1933, Air France is headquartered at Charles de Gaulle Airport in Tremblay-en-France. In 2003, Air France merged with KLM Royal Dutch Airlines. They are a founding member of the SkyTeam Alliance, along with AeroMexico ,Delta Airlines and Korean Air. SkyTeam was founded in 2000, now has 20 full member airlines and is headquartered on the grounds of Amsterdam Airport Schiphol in Haarlemmermeer, Netherlands.
Air France has a fleet of around 225 aircraft flying to over 200 destinations worldwide. The airline currently has ten Airbus A380-800 models in the fleet. Their last Boeing 747-400 was retired by the start of 2016.
Resources
More Like This: