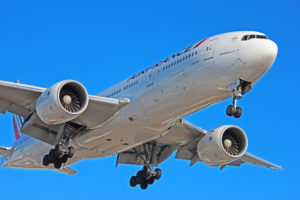 Just a very reliable aircraft with few issues over its 15 year career with Air France. F-GSPV is a Boeing 777-200ER that was photographed on February 19, 2017 while plane spotting at Toronto Pearson International Airport (YYZ) in Mississauga, Ontario.
For full-size, high resolution versions of any of the photos in the image gallery, simply click on the individual pictures. See below for more detailed information on F-GSPV, the Boeing 777-200ER model in general and the airline.
F-GSPV Air France Boeing 777-200ER Image Gallery
F-GSPV
F-GSPV took its first flight on January 24, 2002 and was delivered to Air France on February 15, 2002. This is one of 25 Boeing 777-200ER aircraft currently in the fleet. The airplane is configured for a total maximum of 280 passengers with 40 seats in business class, 24 more in premium economy and 216 seats in economy class.
On December 29, 2011, F-GSPV was flying from Sao Paulo, Brazil to Paris, France. About 90 minutes into the Atlantic Ocean crossing, the crew experienced a technical problem that forced the Boeing 777-200ER to turn around and return to Sao Paulo nine hours after departure. The aircraft was able to complete the flight the following day after a delay of 35 hours. The technical problems turned out to be a cracked windshield.
Boeing 777-200ER
The ER is for extended range and the Boeing 777-200ER has a flight range of 13,080 kilometres, about 3400 KM more than the base 777-200 but 2,800 KM less than the Boeing 777-200LR. The first was introduced in 1997 with British Airways.
The Boeing 777-200ER is 64 metres or 209 feet in length with a wingspan of 61 metres or 200 feet. At the tail, the airplane stands 19 metres or 61 feet in height.
Air France
Air France was founded in 1933 and is headquartered on the grounds of Paris Charles de Gaulle Airport (CDG) in Tremblay-en-France. The airline merged with KLM Royal Dutch Airlines in 2003. Currently, there are over 230 aircraft in the fleet, flying to 204 destinations worldwide. The flagship for Air France are their ten Airbus A380-800 double decker airplanes.
The airline is a founding member of the SkyTeam Alliance. The alliance was founded in 2000 and there are 20 full member airlines. Other founding members include AeroMexico, Delta Air Lines and Korean Air. The alliance is headquartered at Amsterdam Airport Schiphol in Haarlemmermeer, Netherlands.
Resources
More Like This: