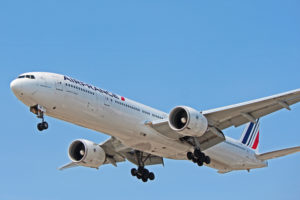 We photographed F-GZNI on July 21, 2017 while plane spotting at Toronto Pearson International Airport (YYZ). This aircraft is one of 43 Boeing 777-300ER models currently in the Air France fleet. Depending on the day, at Toronto you'll either see Air France flying this model or the smaller Boeing 777-200ER.
For full-size, high resolution versions of any of the photos in the image gallery, simply click on the individual pictures. See below for more detailed information on F-GZNI, the Boeing 777-300ER model and the airline.
F-GZNI Air France Boeing 777-300ER Image Gallery
F-GZNI
F-GZNI took its first flight on March 15, 2011 and was delivered to Air France on April 1, 2011. Starting service on April's Day has been no joke for this B773 with no recorded incidents in over six years of life in the skies. This is one of 43 Boeing 777-300ER aircraft in the Air France fleet and is configured for a maximum total of 296 passengers with four 'La Premiere' seats, 58 seats in business class, 28 more in premium economy and 206 seats in economy class.
Boeing 777-300ER
The first Boeing 777-300ER entered service with Air France in 2004, nearly a decade after the initial variant of the 777 was introduced with United Airlines. The ER is for extended range and this version can fly nearly 2,500 kilometres further than the base -300.
The B773 is 74 metres or 242 feet in length with a wingspan of 65 metres or 213 feet. At the tail, the airliner stands 19 metres or 61 feet in height.
Air France
Founded in 1933, Air France is headquartered at Charles de Gaulle Airport in Tremblay-en-France. In 2003, the airline merged with KLM Royal Dutch Airlines. They fly to 204 destinations around the world with a fleet of 225 aircraft. The largest in the fleet is their ten Airbus A380-800 (which do not fly to Toronto, yet) models with all their Boeing 747-400 airplanes retired as of January, 2016.
In 2004, Air France was a founding member of the SkyTeam Alliance. Other founding members include Aeromexico, Delta Air Lines and Korean Air. The alliance is headquartered at Amsterdam Airport Schiphol in Haarlemmermeer, Netherlands.
Resources
More Like This: