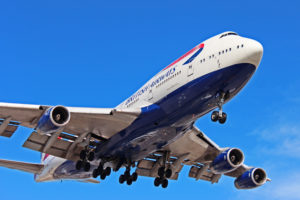 The images below of G-BNLO were taken on August 17, 2016 at Toronto Pearson International Airport (YYZ). Less than a year later, on March 22, 2017, the Boeing 747-400 was retired by British Airways and now sits in storage.
For full-size, high resolution versions of any of the photos in the image gallery, simply click on the individual pictures. See below for more information on this specific airliner, the Boeing 747-400 model in general and the airline.
G-BNLO British Airways Boeing 747-400 Image Gallery
G-BNLO
G-BNLO made its maiden flight on October 9, 1990 and was delivered to British Airways on October 25, 1990. On March 22, 2017, the Boeing 747-400 was retired by the airline and put into storage. At that time, the aircraft carried a maximum total of 347 passengers with 14 seats in first class, 52 in business class, 36 in premium economy and 245 in economy class.
On January 20, 2011, an unfortunate situation interrupted a flight being performed by G-BNLO. The Boeing 747 was flying form London, England to Sao Paulo, Brazil. They were just past Lisbon, Portugal when the aircraft was forced to divert back to Lisbon. A 69 year old female passenger had gone unconscious with no signs of life. After landing, the passenger was pronounced dead.
More recently, on December 11, 2014, a flight from London, England to Dubai in the United Arab Emirates was cut short due to a technical difficulty. Taking off from London Heathrow, the climb was halted at 8,000 feet when it was realized the landing gear would not retract. G-BNLO landed safely back at Heathrow and passengers were taken to their destination via a replacement airplane.

Boeing 747-400
The first Boeing 747 of any kind was introduced in 1969 with Pan American World Airways. The first Boeing 747-400 model made its first flight in 1988 and was introduced with Northwest Airlines (since merged with Delta Air Lines) in 1989.
In all, 694 of the -400 model were built with the last rolling off the assembly line in 2009. Most airlines now are in the process of retiring this model of 747.
The Boeing 747-400 is 71 metres or 232 feet in length with a wingspan of 64 metres or 212 feet. At the tail, the height is 19 metres or 64 feet. The flight range for this aircraft is a lofty 13,490 kilometres.

British Airways
British Airways was created in 1974 with the merger of four different airlines from the United Kingdom. Later, they merged with Iberia in 2011. The airline is headquartered in Waterside, Harmondsworth, England and is a founding member of the OneWorld Alliance, along with American Airlines, Cathay Pacific, Qantas and the now defunct Canadian Airlines.
With a fleet of over 270 aircraft, British Airways flies to over 180 destinations around the world. The Boeing 747-400 count is now down to 41, as of June 5, 2017. The flagship of the airline is now the Airbus A380. BA has 12 A380's with no definite plans to add to that number. The most of any aircraft in the fleet is the Airbus A320-200 with 68.

Resources
More Like This: