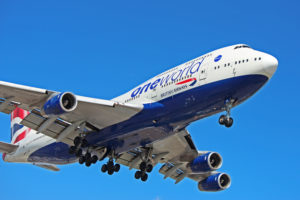 When many are being retired, G-CIVL is one of 41 Boeing 747-400 aircraft still in the British Airways fleet. This particular airplane wears the special OneWorld Alliance livery. The photos in the image gallery below were taken at Toronto Pearson International Airport (YYZ) while plane spotting on July 2, 2017.
For full-size, high resolution versions of any of the photos in the image gallery, simply click on the individual pictures. See below for more detailed information on G-CIVL, the Boeing 747-400 model in general, the airline and the alliance.
G-CIVL British Airways Boeing 747-400 Image Gallery
G-CIVL
G-CIVL took its first flight on March 23, 1997 and was delivered to British Airways on March 28, 1997. One of 41 Boeing 747-400 aircraft in the BA fleet, this aircraft is configured for a maximum total of 337 passengers. There are 14 seats in first class with 52 more in business class. Also, there are 36 premium economy seats and 235 more in economy class.
On December 11, 2009, G-CIVL was flying from London, England to Vancouver, British Columbia, Canada. On approach to YVR, three passengers became seriously ill with vomiting and another became unconscious. After landing safely, the four passengers were received at the gate by medical services.
On February 14, 2013, the airplane was flying from Los Angeles, California to London, England when it experienced issues near Las Vegas, Nevada. Fumes were detected on board, causing the crew to don their oxygen masks and divert to Las Vegas. G-CIVL landed safely and was met on the taxiway by emergency medical services.
Boeing 747-400
Two decades after the original Boeing 747 was introduced with Pan American World Airways in 1969, the first Boeing 747-400 made its first flight. The model was introduced with Northwest Airlines (now Delta Air Lines) in 1989. In all, 694 of the -400 model were produced with the last rolling off the assembly line in 2009.
This airplane is 71 metres or 232 feet in length with a wingspan of 64 metres or 212 feet. At the tail, the aircraft stands 19 metres or 64 feet in height. The flight range is 13,940 kilometres.
British Airways
British Airways was created in 1974 with the merging of four airlines. The airline is headquartered in Waterside, Harmondsworth, England. The founding member of the OneWorld Alliance merged with Iberia in 2011.
The fleet of 273 airplanes include 12 Airbus A380-800 and 41 Boeing 747-400 aircraft. The most of any one type of airplane is 68 Airbus A320-200 models. British Airways flies to 183 destinations around the world.
OneWorld Alliance
The OneWorld Alliance of airlines was founded on February 1, 1999 and now has 15 full members. Headquartered in New York City, the alliance was founded by American Airlines, British Airways, Canadian Airlines, Cathay Pacific and Qantas. Canadian Airlines no longer exists, merged into Air Canada (a founding member of the Star Alliance).
Collectively, the airlines in the OneWorld Alliance fly to 1,016 destinations in 161 countries worldwide with a fleet of 3,560 aircraft.
Resources
More Like This: