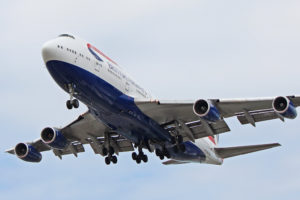 British Airways still has a impressive 36 Boeing 747-400 aircraft in their fleet, at a time when most airlines are retiring these iconic jumbo jets. We photographed G-CIVO in July, 2017 while plane spotting at Toronto Pearson International Airport (YYZ).
For full-size, high resolution versions of any of the photos in the image gallery, simply click on the individual pictures. See below for more detailed information on G-CIVO, the Boeing 747-400 model in general and the airline.
G-CIVO British Airways Boeing 747-400 Image Gallery
G-CIVO
G-CIVO took its maiden flight on November 8, 1997 and was delivered to British Airways on December 5, 1997. As mentioned, this is one of 36 Boeing 747-400 airliners in the airline's fleet. The B744 is configured for a maximum total of 347 passengers with 14 seats in first class, 52 in business class, 36 in premium economy and 245 seats in economy class.
Mostly incident free, G-CIVO did have some issues back on June 28, 2014 on a flight that should have taken the Boeing 747-400 from London, England to Miami, Florida. An hour into the Atlantic Ocean crossing, the crew detected smoke and fumes in the cockpit. The B744 was diverted to Dublin, Ireland for a safe landing.
Boeing 747-400
The Boeing 747-400 made its maiden flight in 1988 and was introduced in 1989 with Northwest Airlines (since merged with Delta Air Lines). In all, 694 were built with the last produced in 2009 – this includes all the freighter variants. As for the 747-400 passenger plane only, there were 440 produced with the last delivered in 2005.
The B744 is 71 metres or 232 feet in length with a wingspan of 64 metres or 212 feet. At the tail, the aircraft stands 19 metres or 64 feet in height. The flight range is 13,490 kilometres.
British Airways
British Airways was created in 1974 with the merger of British Overseas Airways, British European Airways, Cambrian Airways and Northeast Airlines. The airline is headquartered at Waterside, Harmondsworth, England and is a founding member of the Oneworld Alliance. Other founding members include American Airlines, Cathay Pacific, Qantas and the defunct Canadian Airlines. BA merged with Iberia in 2011.
The fleet consists of 273 airplanes that fly to 183 destinations around the world. Along with their large collection of Boeing 747-400 aircraft, BA also has 12 Airbus A380-800 models. The most numerous is the Airbus A320-200.
Resources
More Like This: